Given the changing lineup of eateries lining Broadway in Eureka — with fast food and chain restaurants crowding the corridor — it's a wonder there were no pile-ups as drivers craned their necks at the new sign for Pile High Deli replacing the old one for Hole in the Wall (1331 Broadway). *Cue the crushing of chip bags in anguished fists.
Photo by Jennifer Fumiko Cahill
Pile High Deli's muffaletta sandwich on Dutch crunch.
If you've stopped in lately, you likely got a flier in your bag explaining how the name of the business, which John Forest bought from the owners of the Arcata Hole in the Wall in 1991, had to change before the place could be sold. It also assured customers the sandwiches would remain the same. *Cue slight relaxing of anguished fists around crushed chips.
In fact, in a couple months, the Pile High Deli will be in the hands of current manager Jesse Galloway, who's been behind the counter for the past two years. "Everything's the same except for the name is kinda the catchphrase we've been throwing out to everybody," says Galloway. "I wanna keep that comfy family vibe we've always had … staff who know your order," he says.
Employee Stevie Jessen says customers have been anxious but the sandwiches, down to the bread from Fat Cat and Brio, remain exactly the same: made the same way with the same ingredients by the same folks. The deli's take on the New Orleans muffaletta she puts together — granted, a relatively recent item on the menu — with olive spread, roasted red peppers, prosciutto, provolone and Genoa salami on Dutch crunch bears this out in its heft and generous filling. (OK, not the traditional bread choice but I believe in following the advice of trained experts, and she was not wrong about it being extra good that day.) That and the wall of sleepiness one sometimes hits midway through the second half.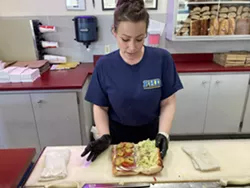 Photo by Jennifer Fumiko Cahill
Stevie Jessen makes up a sandwich the same way as always.
After 31 years in the sandwich business, Forest says, "My main takeaway is a huge amount of pride in a business that when I purchased it, didn't even pay the bills" and now has a loyal customer base. "Right now, it's just peaking — Jesse's getting in at a great time."
Galloway agrees. While other restaurants have struggled, business has actually been up during the pandemic. "We're not a sit-down place; we're grab and go and we're quick. … We were fortunate," he says, "very little changed for us to be able to follow the rules." He admits there was a dip in sales when traffic first swelled for the newly opened KFC and In-N-Out Burger, but things returned to normal after about a week or so each time.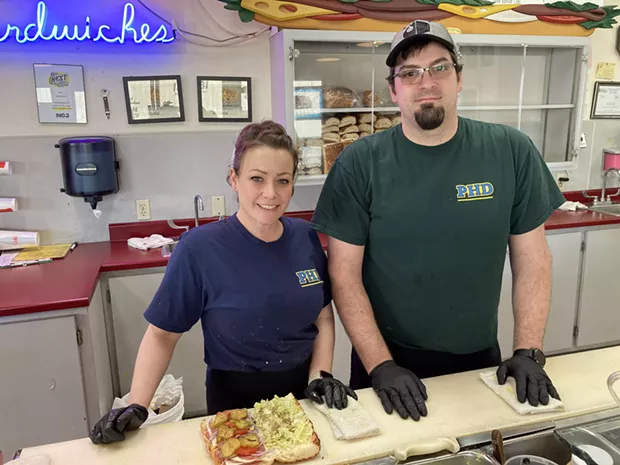 Photo by Jennifer Fumiko Cahill
Pile High Deli employee Stevie Jessen and owner-to-be Jesse Galloway.
That steady customer base is one reason to keep things as they are, and happily, Galloway's own tastes align with the masses. "I have a sandwich [at Pile High] every day and on my days off, I sometimes make an excuse to come in so I can make a sandwich. It's hard even at home to make one the way I can make a sandwich there."
<!—EndFragment—>