You've likely had your last dollop of blue-green Chicago relish in Humboldt for a while, as Chicago Dog House has left the building — specifically the one formerly occupied by Deo's in Henderson Center (428 Grotto St., Eureka). But the spot didn't remain vacant long. Paula Harris has lately opened Grotto there, with a stacked list of sandwiches and wraps.
Photo by Jennifer Fumiko Cahill
The hot roast beef and cheddar Cowboy sandwich at Grotto.
There are specialties of the house, like the hot roast beef and cheddar Cowboy with barbecue sauce on sourdough, with onion, lettuce and tomato, as well as basics like a BLT and a turkey club. Then there are nods to the shop's lineage, like Carrie's Italian sub, the latter a version of the hefty salami, pepperoni, ham, capicola, prosciutto and provolone sandwich with pepperoncini, lettuce, tomato and oil that won a following at Chicago Dog House.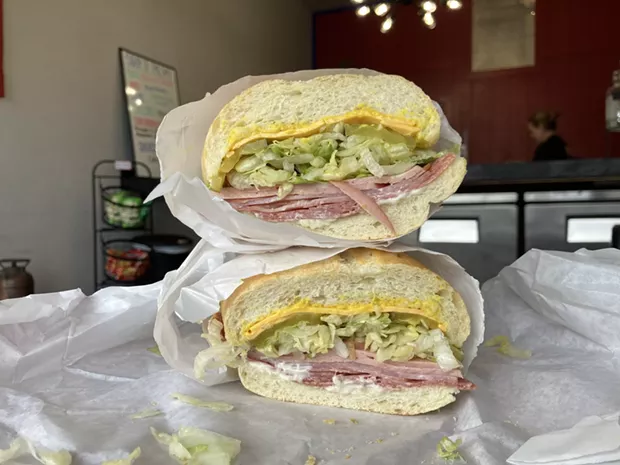 Photo by Jennifer Fumiko Cahill
Deo's Poor Boy returns to the table at Grotto.
The Deo's throwbacks, like Deo's Poor Boy and Deo's Italian Hogie, are sentimental favorites for Harris, who worked at the counter back when it was shuttling sandwiches through the window to the bar at Dave's Place next door. Some things have a way of coming back.