Slow down on Myrtle Avenue, both in the name of safety and so you don't miss the little red El Fogón Costeño truck — decorated with a pastoral image of burrito-eating bears — tucked in the Chevron station (1679 Myrtle Ave.). Enrique Buenrostro, who originally hails from Acapulco, Mexico, has run his truck out of Fortuna for a couple of years and recently relocated to Eureka. (Not cool keeping this from the rest of the class, Fortuna.) Most of the menu falls under burrito, torta or burger, but the standouts are his maximalist specialties.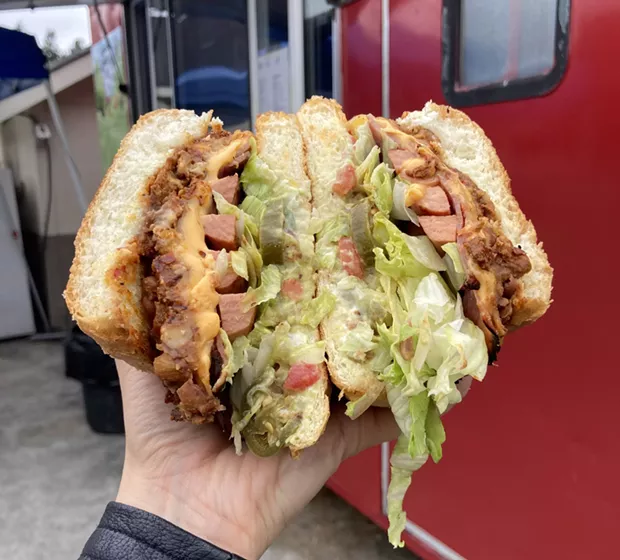 The Cubana, Buenrostro's take on the classic kitchen-sink sandwich, stacks grilled hot dog, ham and pork grilled to a browned patty with pinto beans and chorizo, as well as lettuce, tomato, pickled jalapeño, American cheese and mozzarella, all bravely held together by a soft roll. The crisped patty is a nice touch and adds some interest even in a sandwich with so much going on.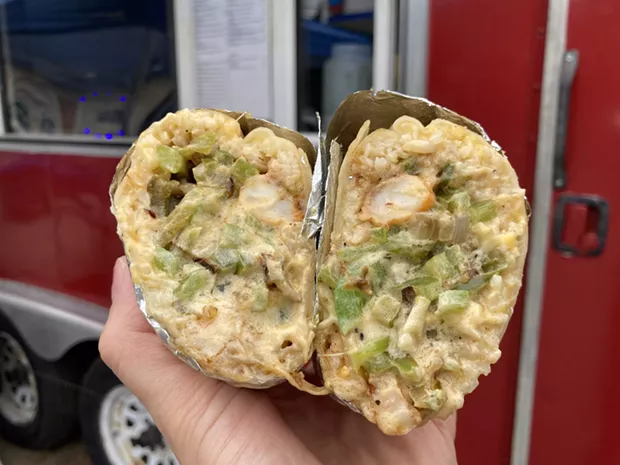 The Acapulco vibe comes out in a pair of shrimp burritos of Buenrostro's devising: the Costeño and the mango habanero. In the creamy Costeño, smoky California and árbol chile oil adds heat to grilled shrimp, green bell peppers and onions, white rice, sour cream and a little mayo. The mango habanero shrimp burrito, which has a little honey in its mango sauce, is inspired by his love of Chinese food, and reminiscent of a spicy sweet and sour with green and red peppers and thick tiles of grilled bacon. The rice and soft flour tortilla make a valiant effort to soak up the sauce but watch your shirt. Unless you're a bear. Then do what you want, I guess.