Renovation has been afoot in Henderson Center at 2850 F St., where Annie's Cambodian Cuisine has transplanted and transformed. The new spot, formerly Le Monde and then Manzanilla, boasts an airier, more upscale dining room than its former home in a run-down building on Fifth Street, now slated for demolition to make way for a Starbuck's and another drive-through chain.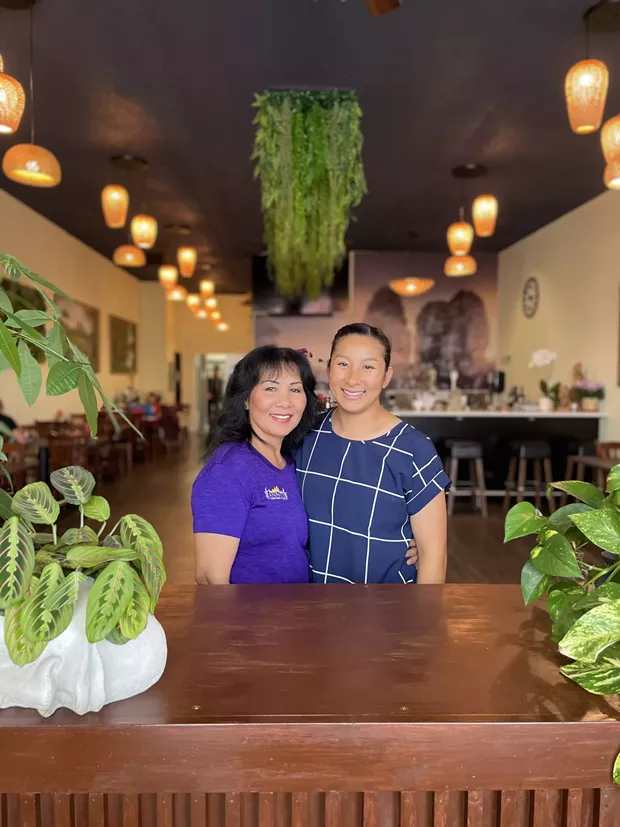 Submitted
Annie Chau and Laura Chau-Yang at the new Annie's Cambodian Cuisine in Henderson Center.
"We were slammed. We've been pretty blessed," says Laura Chau-Yang of the Oct. 17 grand opening. Though some of that blessing was in heavy disguise back in March, when her family was first hunting for another location. "Being forced to relocate kind of gave us a clean slate," she says. Chau-Yang, who took on co-ownership with her mother Annie Chau in January, says local interior designer Aubrey Ritter helped create a welcoming and transportive space that feels like Cambodia to them. So far, the 56-seat dining room — roughly twice the size of the old place — has been filling up.
"We've seen a lot of familiar faces coming back," says Chau-Yang. While everyone is getting used to the new kitchen, the staff, but for one server who's changed careers, has returned, too. Regulars may see less of Annie's husband, Chin Chau, though. "My dad's at the age where he just wants to retire. He's worked so hard all his life," says Chau-Yang, who says she's grateful to have his help making the transition and "tying up loose ends."
The dishes with which the Chaus have built their loyal following remain as well, from the cheese puffs and spring rolls to the lemongrass stir fries, coconut-rich catfish amok and hot pots. Chau-Yang is cooking much of it alongside her mother. "The cuisine is what I grew up cooking, it's what I grew up eating as a child. These are my mom's home recipes," she says. And those won't be changing.
<!—EndFragment—>