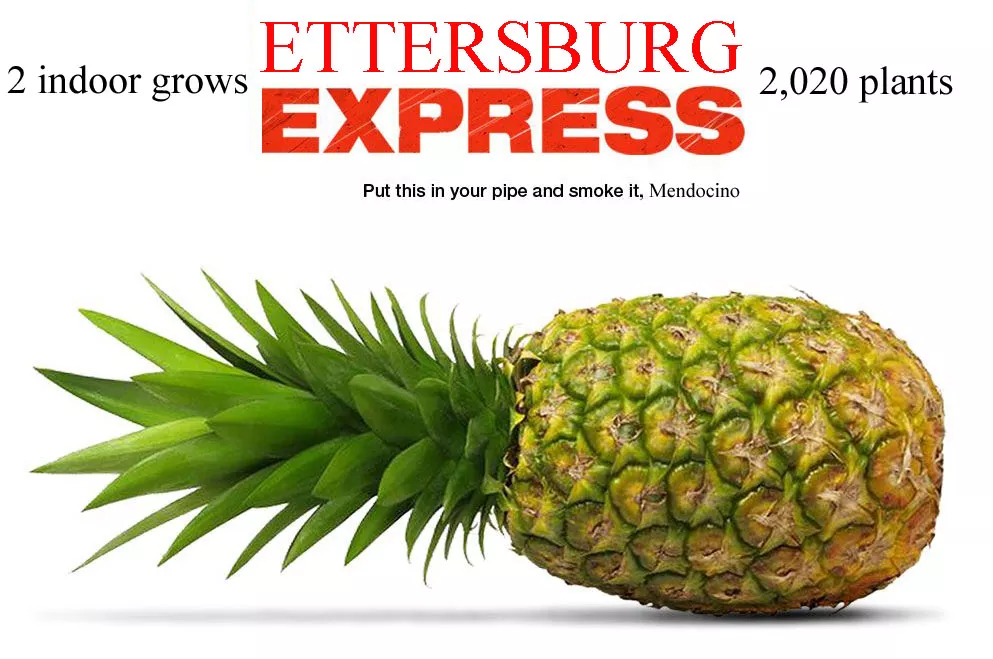 (fancy graphic by Ryan Burns)
Drug cops! Big busts! These events took place in just 24 hours!
For shame, you other California counties: A team of Humboldt County drug cops yesterday busted out more live pot in one day than you all could ever hope to find in a year.
Well, maybe Sheriff Gary Philp didn't mean to sound boastful in the news release he flashed out this afternoon about the 2,020 growing marijuana plants scooped from two properties out in Ettersburg and Shelter Cove yesterday. And yet:
"This amount is higher than the amount of indoor marijuana plants seized by many counties in California in a year."
The cops served three warrants. The lowdown, from the release:
BUST 1: 1400 block of Blue Slide Creek Rd, Ettersburg
396 growing marijuana plants
11 firearms
$2,400 cash
45-KW diesel generator, plus abandoned ones
Arrested: Peter Mathias Gray "for cultivation of marijuana, possession for sales of marijuana, and being armed with a firearm in the commission of a felony."
Gray posted $25,000 bail. Court date is March 12.

The news release says there might have been diesel spills here, and the Humboldt County Division of Environmental Health is investigating.

BUST 2: 1400 block of Blue Slide Creek Rd, Ettersburg
1,624 growing marijuana plants
two-story structure, about 15X80 feet
80 1,000-watt grow lights
70 KW diesel generator
several hundred gallon fuel tank
three large generators stored on site


BUST 3: 8900 block of Shelter Cove Rd, Shelter Cove
three firearms
a small amount of processed marijuana
evidence of the sales of marijuana
Arrested: Carmine James Barbati, 41 ,"for cultivation and possession for sales of marijuana and providing a place for the cultivation of marijuana." He posted $30,000 bail. Court date on March 11. Lisa Ann Deloury, 37 ,"for possession of a concealed firearm, possession of marijuana and a parole hold." She's still in custody.
The release notes:
Both of these grow sites were located near tributaries to Blue Slide Creek, which feeds into the Mattole River.