Yesterday the Times-Standard continued its tradition of leaving real estate market analysis to those who have a vested interest in said market. (See remarkably similar examples of T-S -published Realtor Pollyannaism here and here .) This time around, Coldwell Banker Cutten Realty agent Jill MacDonald set about answering this recurring query: "Is the real estate market picking up?"
"Yes," she concludes , "here locally our market has picked up." MacDonald offers no evidence for her assertion, perhaps because it's scant at best. The most recent data, in fact, shows that while home sales have indeed picked up a bit since May, the overall trend has been in the other direction. Sales declined more than 8 percent from the previous month and nearly 20 percent from a year ago. (See chart below.)
MacDonald also claims, "In typical North Coast fashion, we are isolated from huge economic changes both positive and negative," an assertion that has been debunked almost as often as it's been repeated. Look below at how our unemployment rate mirrors state and national trends. (Data from HSU Economics Dept.)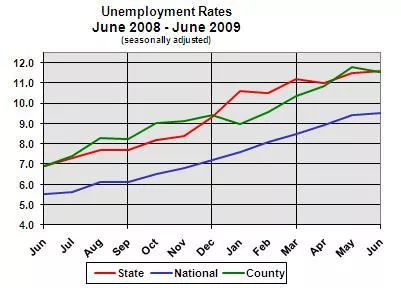 To her credit, MacDonald follows her Pollyannalysis with some solid advice to prospective home buyers and sellers. This is clearly her area of expertise and a valuable service to T-S readers. They should probably assign the big picture stuff to someone else, though.