In his trip from debate to debate around Humboldt County this election season, District Attorney Paul Gallegos has taken credit for reducing violent crime during his eight years as the county's chief prosecutor.
To state it up front: I believe that the case the counselor is advancing here is a piece of minor campaign flummery -- a political infraction or maybe a misdemeanor, far short of a felony. It's hard to imagine any thinking person taking it too seriously. Crime tends to wave up and down like housing prices -- the whole nation more or less in sync -- and, as the Washington Post editorialized a few months ago, no one seems to know exactly why.
So Gallegos taking credit for a reduction in the violent crime rate is something like an incumbent President taking credit for a boom economy: Most everyone agrees that he might have had some sort of hand in the matter, even if no one can pinpoint exactly what it was. So it's pretty much allowed, and only the most churlish of commentators will throw even a yellow flag.
As recently as last night, though, Gallegos himself demonstrated that he takes the numbers very seriously indeed. Both Allison Jackson and Paul Hagen called him on this in different ways. Jackson asserted that the violent crime rate has in fact gone up, not down, during his tenure. Hagen, ready with that yellow flag, wryly quizzed Gallegos about what exactly he had done to bring the crime rate down.
During that debate, I promised a complete blog post on the subject today. Here it is. In short: Gallegos' central claim is true, barely. However: He should immediately fire whatever genius inspired him to take sole credit for the Humboldt County crime rate and make it part of his campaign pitch. The news on that front is far from good.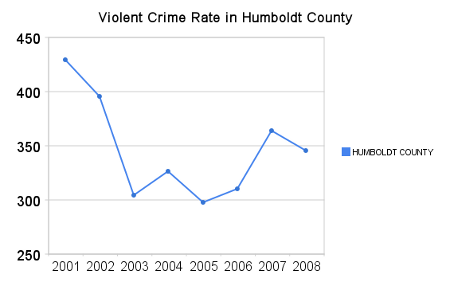 The chart above shows the per-capita violent crime rate in Humboldt County from 2001 to 2008, the last year for which the state Department of Justice has complete statistics. Gallegos took office at the beginning of 2003. The vertical scale on the chart indicates the number of violent crimes -- homicide, rape, robbery, aggravated assault -- per 100,000 residents. A simple glance shows that Gallegos is indeed correct. The crime rate is lower in 2008 than it was in 2002, the last year of Terry Farmer's regime.
Drill down, though -- what does this chart really show? If you accept the Gallegos narrative -- again, we don't, he does -- then in his first year in office the new District Attorney cleaned up the county something fierce. With a new head prosecutor in town, the thugs were on the run: The 2003 violent crime rate was 21.8 percent lower than the year previous.
After that? Not so good. Somewhere in the third season of The Wire, someone -- Daniels? Colvin? Burrell? -- shared his maxim of police work: You never take credit for crime going down, because then you gotta take the blame when it goes up. If Gallegos single-handedly brought crooks to bay in 2003, what did he do to screw the pooch so badly in 2007? Violent crime shot up 18.1 percent in that year, and the next year didn't offer much relief.
This is especially egregious when you consider that national and especially state trends continued in the opposite direction: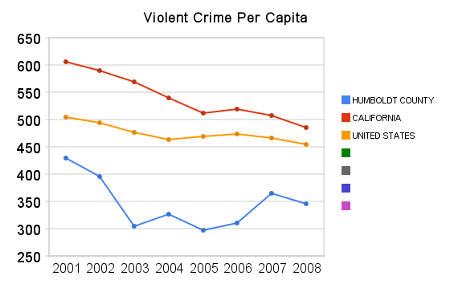 In other words, if you accept the Gallegos narrative -- he does, we don't -- the question should be: What happened to that unstoppable crimebuster who singlehandedly pulled us out of Mad Max-style chaos and cleaned up the streets in his first year in office? The other 57 District Attorneys in the state of California continue to push the crime rate into freefall; ours, contrarily, now lets the hoodlums have their way with us.
That is, if you accept the great man theory of crime-fighting. We don't. Gallegos does.
Sources:
Humboldt County: California Department of Justice.
California: California Department of Justice.