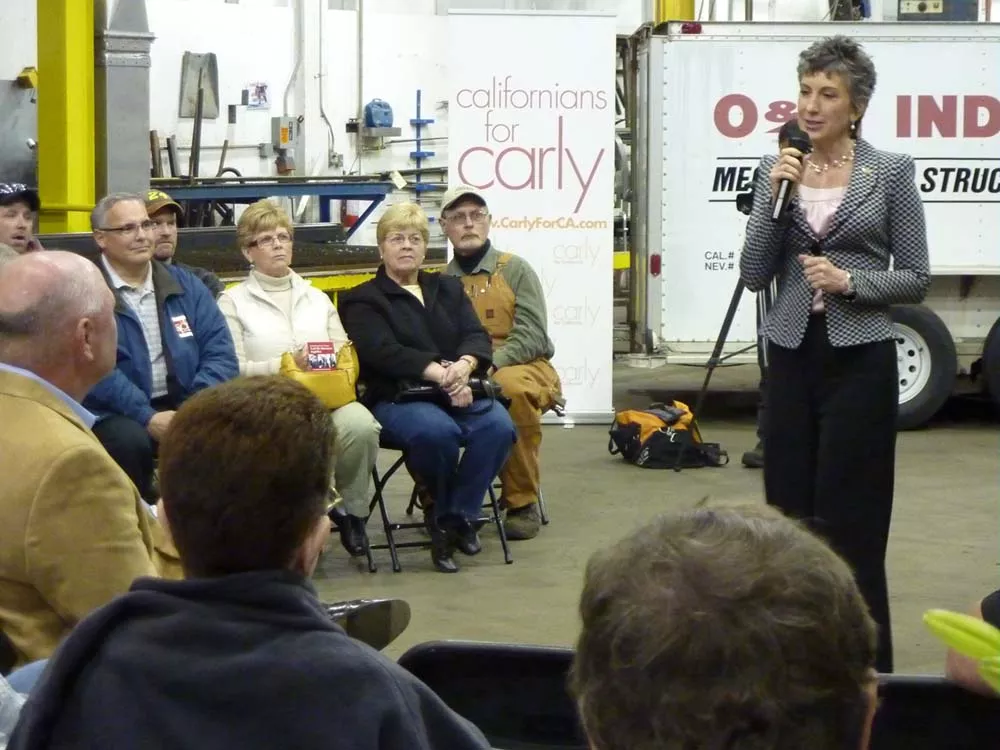 U.S. Senate hopeful Carly Fiorina held a town hall meeting this afternoon inside a cavernous warehouse at Arcata's O & M Industries. Addressing the crowd of 50 or so locals -- which included Eureka Mayor/County Supervisor candidate Virginia Bass, County Planning Commissioner Dennis Mayo and County Supervisor candidate Ryan Sundberg (who said he'd just learned who Fiorina is this morning) -- the former Hewlett-Packard CEO sought to woo conservative voters.
Armed with the Sarah Palin stamp of approval, Fiorina went straight after incumbent Barbara Boxer, calling her "a powerful, punitive, dangerous senator who supports every left wing cause there is in this state." But she added that after fighting off cancer last year, "Barbara Boxer doesn't scare me one bit."
Hammering away on the subject of job creation, Fiorina said that government has become too intrusive, too expensive, and that it's destroying jobs. Citing an unnamed poll in which Californians allegedly didn't include global warming in their top 10 list of concerns, the candidate suggested, "Maybe offshore drilling actually would be a good idea... ."
And she was flabbergasted by environmental protections: "The Endangered Species Act prohibits [pause for impact] prohibits the consideration of economic or social impact when assessing a species. Now how crazy is that?"
After mocking concerns over the spotted owl and the delta smelt, Fiorina apologized -- though for what was unclear. "I am sorry; I want to be a good steward of the planet, but families are more important than fish; they're more important than owls... ."
She also characterized Arizona's recent passage of racist, probably unconstitutional immigration policies as "the poor people of Arizona doing what they feel they need to do to protect their citizens."
In burnishing her conservative credentials, Fiorina -- who has thus far invested $3.6 million of her own money into her campaign -- made even more dubious claims. For example, she declared that the stimulus bill (aka the American Recovery and Reinvestment Act of 2009) has "done nothing to create jobs." In fact, recipients of stimulus funds have reported nearly 700,000 new jobs -- more than 10 percent of them in California.
Regarding education she said, "If you look at California, what you'll find out is that we spend, in total, more money on education than 75 percent of the states in our nation. And yet our results are 48th or 49th, demonstrating that more money is not always the answer."
California's "total" spending on education hardly seems relevant considering we are far and away the most populous state in the country. When you break the spending down to per-student levels, we're about smack-dab in the middle. And so are our results.
Curiously, Fiorina made no mention of what is perhaps the most serious threat to the future of Californians: demon sheep.