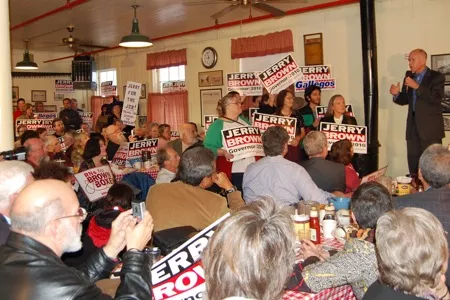 With only two days until the election, and polls showing your lead widening against opponent Meg Whitman, c'mon Jerry, do you really need to make that out-of-the-way trek up to Humboldt County? Really?

For whatever reason, Jerry Brown did.

At 8 a.m. Sunday morning, around 150 presumed supporters of the California gubernatorial candidate sardine-packed themselves into the banquet hall at the Samoa Cookhouse for the opportunity to get "stumped on" by California's 34th, and likely 39th, Governor.

Humboldt County Democratic Central Committee Chair Milt Boyd kicked things off and welcomed excited Humboldt Dems before inviting Wiyot elder Cheryl Seidner to bless the event. Breakfast was served. Biscuits and gravy, French toast, sausage and eggs. Delicious.

After the grub, Assemblyman Wes Chesbro fluffed the crowd a bit more, mentioning the effectiveness of the recent "Why I Came to California" Brown campaign ad, before introducing the candidate who entered to chants of "Jerry, Jerry, Jerry," from the energetic crowd. Jerry warmed up by proclaiming "It's good to be back in Humboldt, where the air is pure… until you exhale," to uproarious laughter. After that and for the duration of his brief speech, Jerry kept the atmosphere loose while still managing to hit most of his campaign's talking points -- jobs, clean energy, etc. -- before thanking his extremely gracious audience for their support. There was no question/answer period. Brown shook a few hands, while making his way through the crowd and exiting the building.

He was scheduled to to meet with voters in Chico at 11 a.m.