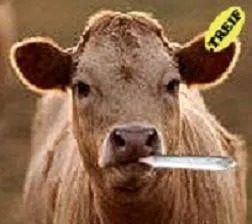 The Humboldt Beacon's report this week on the Humboldt County Farm Bureau's annual gathering at the Scotia Inn provided some (somewhat ancient) figures on the financial prowess of our county's "top five" agricultural products:
"In 2006 agricultural production was $294,787,100 with 690,000 acres in agricultural use and 67,000 of those acres intensively farmed. During this same time, the top five crops were Timber at $171,631,700, Nursery Products at $49,116,900, Milk at $29,727,000, Cattle at $19,816,200, and Pasture/Range at $8,672,500. (www.humboltfarmbureau.org) Significant agricultural resources are located near Fortuna, Arcata, and Blue Lake among other locations."
But the best part of the report was on the gatherers' dutiful consumption that evening of many of those wonderful homegrown products:
"The salad was a combination of CR Farm tomatoes and cucumbers provided by Noah Corp and Franz Rulofson with the melon provided by John LaBoyteaux. The rolls were made from Humboldt County Wheat grown by John LaBoyteaux and provided by Glee Brandon. Bill Fales provided the Valley Flower Vegetables potatoes for the mashed potatoes. The mountain of stew came from Jay Russ and Lee and Eileen Mora of Humboldt Grass Fed Beef. Drew Clendenen of Clendenen's Cider Works provided the apples for the dessert which was topped off with Humboldt Creamery Ice Cream. The tables were adorned with flowers from Holly Kreb and wine was from Briceland Vineyards."
And after the richly satisfying meal, the attendees retired to the lounge where they each lit up a Purple Kush fattie in silent commemoration of the county's tippy top ag product (conservative estimate: $500,000,000 a year). No, wait, the report didn't say that.
Anyway, a good time was had by all.