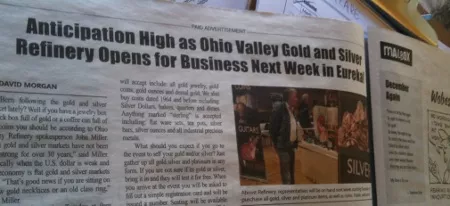 A full-page ad in this week's Journal (page 4) calls one and all down to the Best Western Bayshore Inn, so that the good folks at Ohio Valley Gold and Silver Refinery, in town for one week only, might offer fine prices for your precious metal collectibles. They'll be there Tuesday through Saturday, the ad says.
"During this special event, anyone is welcome to bring all types of gold, silver and platinum to the refinery and turn it in for instant payment," the ad reads. The idea, apparently, is that by selling directly to a "refinery," you'll be getting a better price.
Hold on a moment, though. Numerous reports from across the nation accuse the company, which operates under a variety of aliases, of dirty dealing and scammery. The Texas Examiner undertook its own covert investigation, and discovered the company offering prices way below market value. The Bowling Green Daily News notes that the company has a record of bounced checks and Better Business Bureau complaints, and was the subject of a trademark infringement case brought by the makers of "Antiques Roadshow."
More on this in the next Journal. Meanwhile: Proceed with extreme caution, and please tell your friends.