UPDATE, 3:55 p.m.: Several SoHum schools are cancelling classes for the remainder of the week. South Fork High School, Redway Elementary School and the Osprey Learning Center will be closed Thursday and Friday due to transportation and food delivery concerns, Southern Humboldt Unified School District Superintendent Michael McAllister told the Times-Standard.
UPDATE, 2:25 p.m.: Caltrans spokesperson Julie East says Hwy. 101 will remain closed for at least two to three days -- barring more rain -- after which it may be opened to one-way controlled traffic. Here's the tale of the tape: The mudslide is 600 feet wide, extends 1,500 feet above the roadway is still moving. The suggested alternate route is Interstate 5, which means using Routes 299 or 36 from the north or Route 20 from the south -- inconvenient, to say the least.
Lots more photos from the CHP can be seen here.
UPDATE, 2:07 p.m.: The situation ain't pretty. Our relative isolation has grown more severe, and a shudder of loneliness sweeps across the land. Here's a release from the county's Public Works department:
Hwy 101 between the Avenue of the Giants exit at Silvendale and the Redway exit at Dean Creek has been closed due to a slide. The local roads around this area are not an option for travelers. The roads to the west, Briceland/Thorne Road, Wilder Ridge, and Mattole Road, have all experienced damage in the recent storms. To the East, the Alderpoint Road has also had storm damage. The Dyerville Road has experienced heavy snow fall; it has been plowed but there is still snow on the road and it [is] one lane in many places. These rural roads cannot handle a large volume of traffic or use by heavy vehicles. For the public's safety Humboldt County Public Works Department is recommending Highways 299, 5, and 20.
Weeks of relentless downpours conspired with gravity this morning to trigger a massive mudslide that completely swallowed a four-lane expanse of Hwy. 101, five miles north of Garberville. Caltrans officials told KSLG's John Matthews that the highway will remained closed for "at least a couple of days." Caltrans District 1 spokesperson Julie East said there are many people on site, and they expect to have an updated status report around 2 p.m.
The photo below came from KMUD's Flickr stream.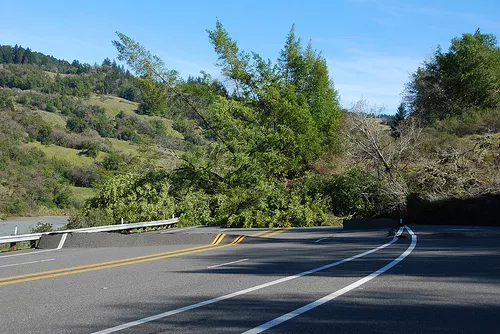 Earlier, the California Highway Patrol stunned more than a few folks by suggesting the route would be closed for two weeks. The slide buckled the asphalt and displaced an entire hillside -- trees and all. Here's another aerial shot, provided by County Supervisor Mark Lovelace CHP Luitenant Adam Jager: