Guest post by Somes Bar resident Malcolm Terence: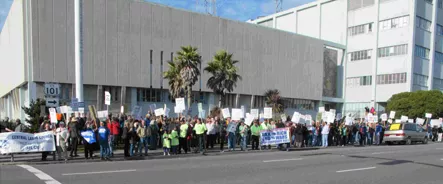 For Harriet Lawlor the connection was clear. On April 4, 1968, Martin Luther King was standing up for striking sanitation workers in Memphis -- workers whose union was AFSCME, the American Federation of State, County and Municipal Employees. So yesterday afternoon, Lawlor was at the Humboldt County courthouse, in the sea of picket signs and 300 protesters, to observe the 42nd anniversary of King's assassination.
Forty-two years ago, the New York branch of AFSCME had agreed to help the 1,300 Memphis workers organize when no Tennessee union would do so. The sanitation workers' issues were dramatic. Besides the usual wages and hours problems, two workers had been killed in a trash compactor and there were no benefits for their survivors.
To Lawlor, a field rep for AFSCME, the issues facing unions today -- starting with the effort to eliminate collective bargaining rights in Wisconsin -- are just as threatening. The crowd at the courthouse agreed.
The AFL-CIO reports that the legislatures in at least a dozen states have now targeted collective bargaining rights. In response, unions organized more than 1,000 actions, large and small, in all 50 states and around the world.
Ginger Olsen, a teacher at College of Redwoods, complained that the media were happy to report on protests in Egypt and Libya but were loathe to report the union protests except to say that they were honoring King. Even California, with its Democratic majority and Democratic governor, is a danger zone, Lawlor said, because a Republican minority has played hardball on attempts to reduce a $26 billion state budget deficit.
The courthouse crowd was in a good mood, greeting old friends, joining the standard union chants and cheering the passing cars as drivers honked and waved in support. (An observation about megaphone chants: Some are easier to lead than others. "United we bargain; divided we beg" is easy. "Repeal corporate personhood" is a harder way to work up a crowd.)
Besides AFSCME, there were carpenters, electricians, teamsters, college and public school teachers, college non-faculty staff, peace activists, veterans, MoveOn.org activists and more. The crowd, picket signs aloft, marched to the E Street headquarters of the Central Labor Council, a body that represents 7,000 union workers in Humboldt and Del Norte counties. Tables there were loaded with food, and the protest continued with a string of fiery speakers.
Tim McDermott, president of AFSCME Local 1684, said that corporate America had broken the private sector unions with tactics like NAFTA, the North American Free Trade Agreement, and was now turning its sights to public unions.
Barbara Kandarian from the same local charged that right wing politicians want to balance budgets on the backs of public workers while many corporations pay next to zero taxes on their billions of profits.
John Malloy of Veterans for Peace said that he was working in D.C. on King's last campaign when the news came of the assassination. He recalled seeing smoke that day, real smoke, rising on the horizon when the ghettos rose up in anger.
Connie Stewart, a former legislative rep who now works at HSU, remembers smoke also rising in Newark, New Jersey, her hometown. She said, "We are a rich country, a rich state. Those who blame unions for the budget crisis, shame on them."
Arcata City Councilman Shane Brinton charged that there was "a full-on invasion on the social safety net. Their boot is on our neck and they have the audacity to say we're making class war."
At the height of last month's protests, crowds at the statehouse in Madison grew geometrically at each rally, sometimes exceeding 100,000. Thousands would gather even on days when no rally was called.
Perhaps that is starting in Humboldt as well. A teach-in, reminiscent of the Vietnam War era, was planned at HSU for today. A big rally of students, faculty and staff is planned for April 13 at HSU and other CSU campuses across the state. Student fees in the California State University system have climbed 250 percent in recent years, and the governor's proposed budget includes a 16 percent cut in CSU funding. That may rise to 36 percent since talks of a tax extension stalled in the legislature.