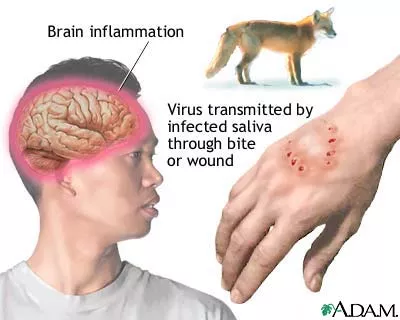 A Willow Creek resident has tested positive for rabies. That's about the extent of information released so far by the Humboldt County Department of Health and Human Services.
The CDC informed local public health officials of the diagnosis this afternoon. The infected animal has not yet been identified, according to a press release from the county health department.
Information on human rabies can be found here. If symptoms exhibit themselves before a vaccine has been administered, the chances of survival are brutally grim. It's unknown whether the victim had such vaccination. The full press release is below.
The Centers for Disease Control and Prevention informed local public health officials this afternoon that a Willow Creek resident has tested positive for rabies.

The source of the disease has not been identified. Rabies is transmitted by the saliva and neural tissue of infected animals. State and local officials are contacting people who may have been exposed and encouraging them to seek treatment. Preventative vaccines, also known as post-exposure prophylaxis, have been proven to be 100 percent successful at preventing illness.

Human rabies in the United States is rare. Since the 1990s, only one or two cases are reported each year. There has never been a documented case of human-to-human transmission of rabies. While the disease is more common in other countries, widespread vaccination of domestic animals in the U.S. keeps the number of human cases low.

"As in many locations, Rabies is endemic in Humboldt County wildlife," said Dr. Ann Lindsay, Humboldt County Health Officer. "The number-one thing residents can do to protect themselves and their families is to vaccinate their domestic animals. Secondly, residents should notify law enforcement of any animals exhibiting unusual behaviors."

The victim is receiving care at a Sacramento-area hospital. "Our thoughts are with the victim's family during this very difficult time," Lindsay said.

We will likely have additional information available next week.