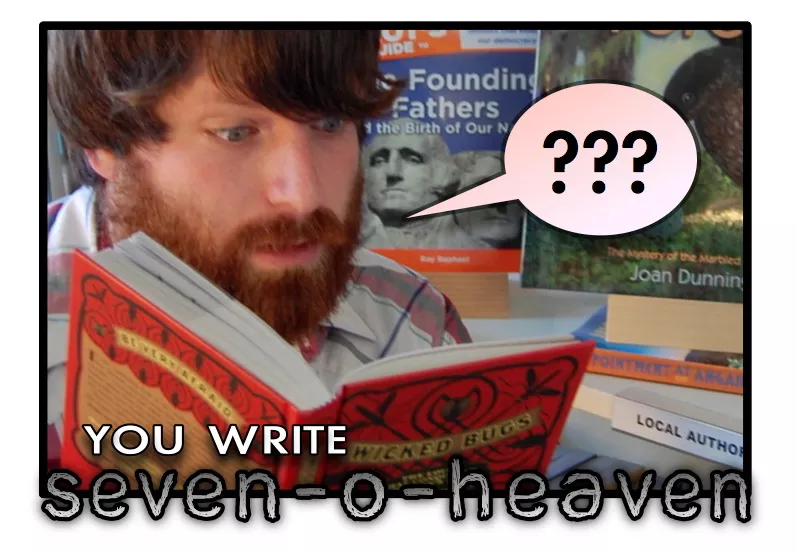 First off, thanks to the dozens of readers who took half a second to submit captions for our NCJ Book Issue-inspired Seven-O-Heaven Caption Contest. Your pithy entries made the Journal editorial posse, at various times, laugh, cry, scratch our heads and/or fear for the future of our species. Way to go!

But one entry stood out above the rest. By effortlessly acknowledging the essence of both Will's character and the content of Amy Stewart's Wicked Bugs in a palatable and succinct handful of words -- c'mon, brevity, people! -- local anonymous blogger Heraldo won our hearts with his awe-inspiring entry, "So that's what's living in my beard." Ding ding ding! Bravo.

That's when the conflict arose. How can a prize -- in this case a collection of books by Humboldt authors -- be awarded/delivered to a shadowy, identity-less figure who only dwells in the safety of cyberspace? Tough one. So. We hate to have our first Seven-O-Heaven contest end mired in controversy but, sorry Heraldo -- the referee has reversed his decision.

Instead, we award the locally produced word bricks to Humboldt Herald frequenter and real person Mitch Trachtenberg. Judging by his caption submission, "There has to be a 'Next Page' button here somewhere," perhaps Mitch is less than optimistic about the future of books. Hopefully he'll enjoy these.

However, to make sure there are no hard feelings, we are prepared to offer Heraldo the title "First Runner Up," which carries with it the prize of a gift certificate for a free sundae at Bon Boneire. The catch? He/she/they/it has to come claim their bounty at NCJHQ in Old Town. You're close right? Does Heraldo have a sweet tooth? Time will tell.

(See the winners and other entries by CLICKING)
UPDATE: Heraldo cries foul on our judging methods!!! Can we really blame him?