All variety of newsy bits in the past 24 hours, ranging from tragic to peevish to frivolous.
First, the tragic. SoHum blogger Kym Kemp reports that 20-year-old Amanda Sue Klemm of McKinleyville died last night after the truck she was in -- driven by Noah Joseph Carter, 19, of Eureka -- plunged off the wet road north of Leggett and ended up submerged in the South Fork Eel River.
The Times-Standard reports that a third suspect has been arrested in the May 4 murder of Willow Creek resident Darrell Hanger Sr.
Also on the T-S, eagle-eye reporter Donna "The Hoover" Tam relays the county Board of Supervisors' short list for the vacant at-large position on the planning commission: former Eureka Planning Commissioners David Edmonds and Greg Conners, retired Humboldt No. 1 Fire Protection District Chief Glenn Ziemer, Redwood Times reporter Virginia Graziani, former county Planning Commissioner Richard Hansis, former Arcata Planning Commissioner Ann King Smith, and planning consultant Sungnome Madrone. They're due to make a choice at their May 24 meeting.
On to the peevish: Lost Coast Outpost maestro Hank Sims has released a second email chain between opinionated Eureka businessman Rob Arkley and left-leaning Humboldt County Supervisor Mark Lovelace. Their spirited tête-à-tête "bears all the hallmarks of a classic flame war," as Sims puts it. All in all it's a spirited debate over who's a bigger liar, and who owes whom an apology.
Finally, the frivolous: This week the Journal releases its annual "Summer of Fun" issue, complete with an exhaustive list of kids' activities. (Not the frivolous part; parents may well find that list indispensable.)
On the cover you'll find a collage of goofy-lookin' chillun, with no explanation as to who these youngsters may be. You'll find the key below. Simply scroll over the photo to see who's who.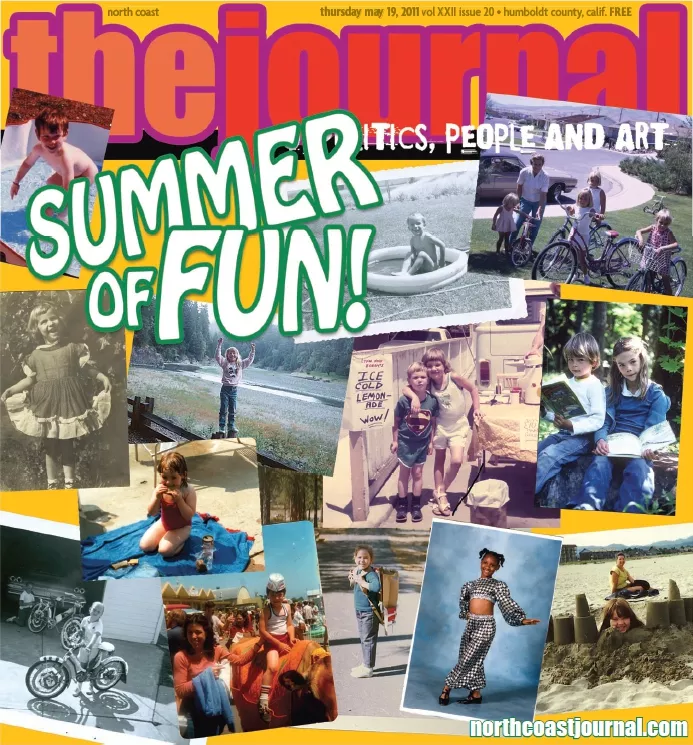 1. Calendar Editor/Seven-O-Heaven creator Andrew Goff
2. Arts & Entertainment Editor Bob Doran
3. Staff Writer Heidi Walters (with grandma and sisters)
4. Ad Rep Colleen Hole
5. Advertising Assistant Kathryn Blaisdell
6. Graphic Designer Siobhan Calderwood
7. Graphic Designer Lynn Jones (and little brother Bob)
8. Acting Editor Ryan Burns (and older sister Melissa)
9. Ad Rep Karen Sack (and sister)
10. Ad Rep Shane Mizer (and mom)
11. Art Director Holly Harvey
12. Graphic Designer Alana Chenevert
13. Classified Assistant Corin Balkovek