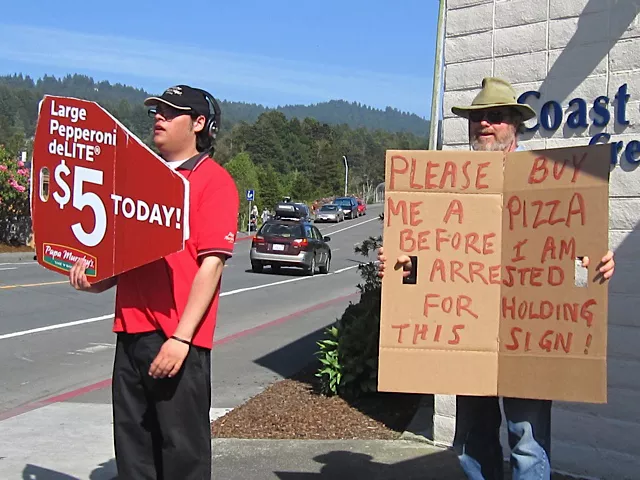 Political activist/consultant/sign maker Richard Salzman (above right) filed a lawsuit in California Superior Court yesterday against the City of Arcata, claiming that the liberal mecca's panhandling ordinance is unconstitutional.
Ordinance no. 1399, which narrowly passed the Arcata City Council last March, made it illegal to panhandle "in an aggresive manner." It also prohibits panhandling in certain geographic regions. For example, you can't beg for money within 20 feet of any of the followig: ATMs, check-cashing businesses, entrances to stores, restaurants or bars, bus stops, foot bridges and intersections.
Salzman has no beef with the ban on aggressive panhandling, but he claims that those spacial restrictions violate the First Amendment. In March of this year the Arcata City Council refused to back down in the face of Salzman's threats of litigation; with a 4-1 vote the council decided not to amend the ordinance.
In his complaint Salzman claims that "the ordinance was passed for the unlawful purpose of driving out the homeless population ... and the City unlawfully singles out the homeless for discriminatory treatment."
Read the full complaint here.