Police sources report that a 30-year-old McKinleyville woman, Claudia Parker, who had left her in-laws' home in McKinleyville late Friday night was found the following morning walking naked down Hwy 3 near Coffee Creek Road in the Trinity Lake area. It is assumed that Parker left Humboldt County with her 2 1/2-year-old daughter, Sophia Parker, but the girl was not with her mother.
Update: The Record Searchlight reports:
The missing Humboldt County girl was found dead this afternoon in the Trinity River and her mother will be charged on suspicion of her daughter's murder.
Parker initially said she does not remember driving to Trinity County or if she had her daughter with her. She later told officials she thought the girl was with her. Parker's 2008 silver Kia sedan (Calif. License 6GKR186) was found in a campground nearby. Personal items discarded from the car, including children's toys, were found on Hwy 3 and on Hwy 299. Police searched for the toddler along the full route the car followed. Claudia Parker was originally booked in Weaverville on child endangerment charges.
Journal interns Travis Turner and Preston Drake-Hillyard of Venatore Media went to Trinity County and filed a report after speaking with Search Incident Commander Sgt. Ray Hurlburt from the Trinity County Sheriff's Dept.
Sgt. Ray Hurlburt on missing toddler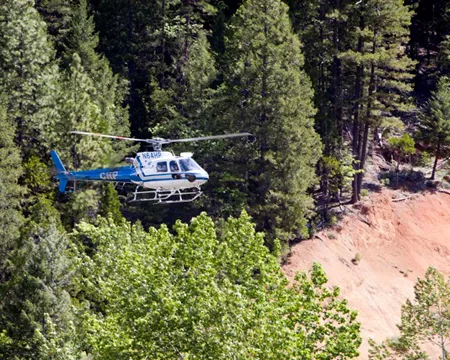 A California Highway Patrol Helicopter searches Trinity Lake near Coffee Creek on Saturday, May 21 for a two-year old who went missing. The search started when police found the mother walking nude down Hwy 3 near Trinity Lake Campground. photo and cutline by Preston Drake-Hillyard
Search and Rescue, Trinity County Sheriff, US Department of Forestry and volunteers gather at Trinity Lake Campground near Coffee Creek on Hwy 3. The campsite was where they found a silver 2008 KIA sedan, the car driven by Claudia Parker/Pedreros, 30, of McKinleyville. The car was also occupied by her 2 1/2 yr. old daughter, Sophia. photo and cutline by Travis Turner.