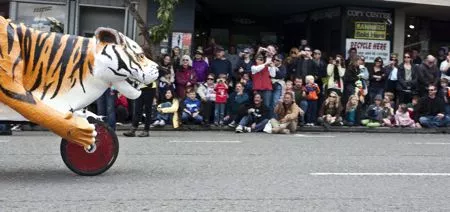 Morning drizzle gave way to glorious sunshine as the 2011 Kinetic Klass gathered on the Arcata Plaza Saturday. Does that signal a glorious weekend is upon us? Time will tell.
The following is an almost komplete (we'll keep adding to it) and helpful guide to this years kompetitors and their exploits.
(For a preview of this year's race, click here.)
Photos by Andrew Goff and Venatore Media's Preston Drake and Travis Turner.
Roll call!:
Tigers and Amazons - Spirit of the Glorious Founder Award Winner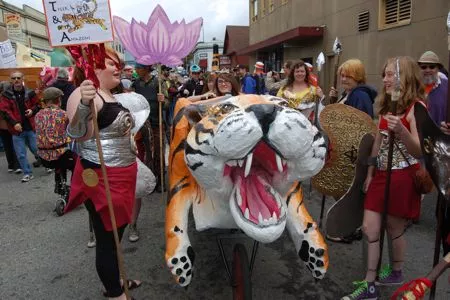 There was some pre-race controversy due to some members of Eureka High School East Lab's T&A sculpture allegedly being less than 16 years of age, therefore making them ineligible to participate. Chants of "Let Them Race" were heard. Birth certificates were produced. Tension between racers and race officials were high. We'll let you know how it goes.
12:01 update: T&A circled the Plaza at noon with the rest of the sculptures. Until we hear otherwise, we'll assume things are smoothed.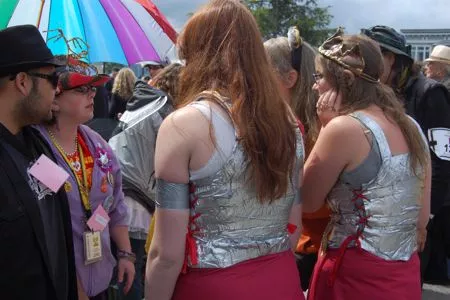 1:32 p.m. update: Apparently, things aren't all smooth. Speaking with KHUM's Larry Trask, T&A team member "Sarah" revealed that in order for their sculpture to compete, team member parents had to sign up as official racer. She went on to promise that even if race officials don't consider her team "Ace-worthy," T&A would meet the requirements. "I'm doing this for me," she said." For the glory, indeed.
2:39 p.m. update: The Journal spoke with Kinetic President Monica Topping about the T&A kontroversy. She stated unofficially that she was "98% sure they're banished." More as it deveolps.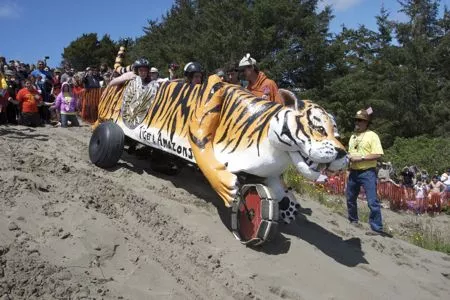 UPDATE: We spoke with Alice Krause, the mother of two of the T&A racers who seemed none too happy about the kontroversy she and her daughters had to endure leading up to the race. Listen below.
And then, of course, the racers, Sara and Tess Krause, themselves...
After some brief tension clearing, Glorious Reason and fellow racer Justin Hobart Brown gave his two cents on the issue.
We attempted to conduct similar interviews with Kinetic Universe President Monica Topping and Queen Blue LaRue. Both declined our request. Topping remarked, "Nothing positive can come out of anything I say right now."
UPDATE: In what has to be perceived as something of an olive branch, Tigers and Amazon were awarded the "Spirit of the Glorious Founder Award" by race officials. For the Glory, indeed.
"Random Tandem"
One of the more kontroversial kontrapions of Day 1, Random Tandem crossed the finish line at Halverson Park well ahead of any other scuplture leading to allegations of "kourse manipulation" from KHUM's Amy Berkowitz among others.
When the Journal asked Team Captain "Jeremy" whether his two-man operation was in fact an official entry he presented his laminated "Pilot" badge and stated that they were a late entry to combat evidence that they were not announced from the stage on the Plaza by Berkowitz.
Okay, but that race number is suspicious, dude.
Heroes of Gloryopolis - 1st Place Pageantry Award Winner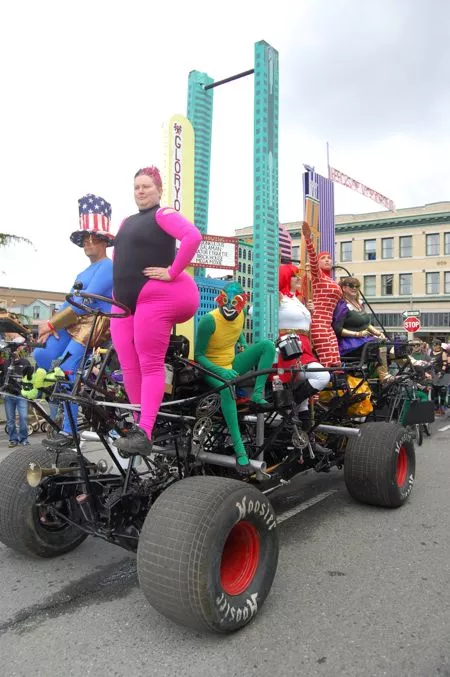 Know Your Heroes of Gloryopolis!:
Queen Redonkulous! Superpower: The Donk!; Captain Obvious! Superpower: Obliviousness!; Salaman! Superpower: Amphibiousness!; Silver Lining! Superpower: Positivity!; Major Etiquette! Superpower: Politeitude!; Sonic Avenger! Superpower: Underwater Noise Cancellation!; Flying Squirrel Girl! Superpower: A Birds Eye View!; Brick House! Superpower: Destruction!; The Spark! Superpower: Seven Pounds of Glory Shoved Into a Three Pound Sack!; Mega Moxie! Superpower: Sticktuitiveness!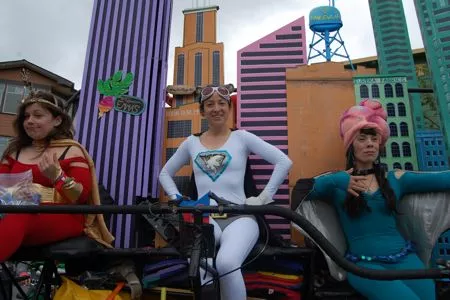 Attack of the FunGuys - Most Improved Award/Best Pit Crew Award Winners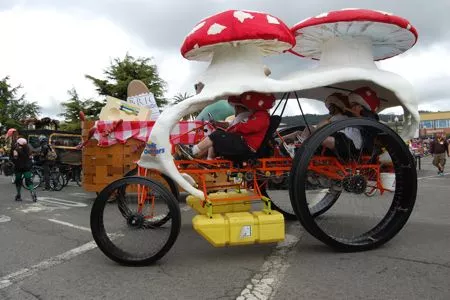 Be sure to watch Kinetic Kelebrity Brian "Funguy" Slayton's kontraption when it enters the water tomorrow morning. "It's never been water tested," team member "Joe" told the Journal.
Awesome.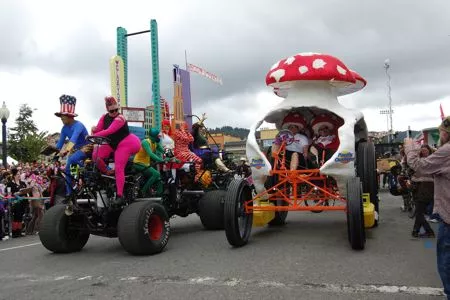 After a grueling first day, Funguys arrived at Halverson Park, where we informed Brian, "You look like hell."
He replied, "And I feel half that good."
We then chronicled a standard "FunGuy Doublefist."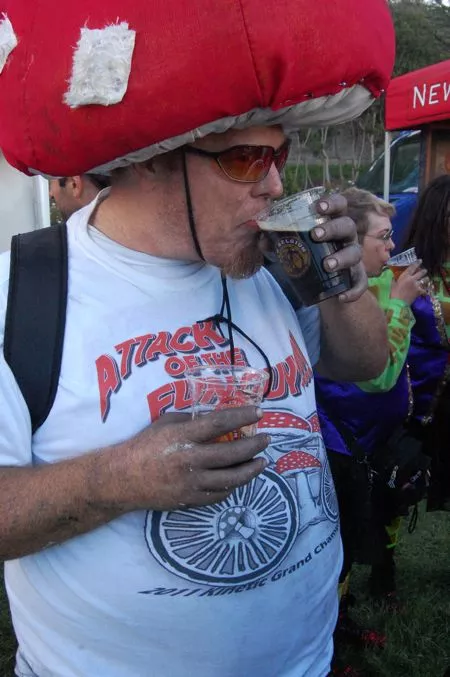 One...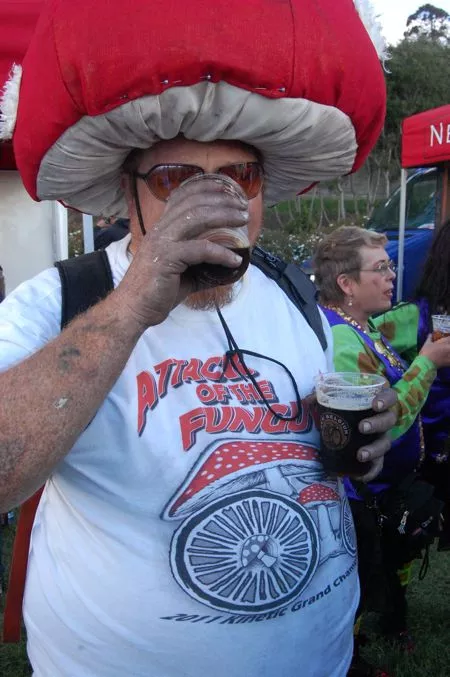 Two...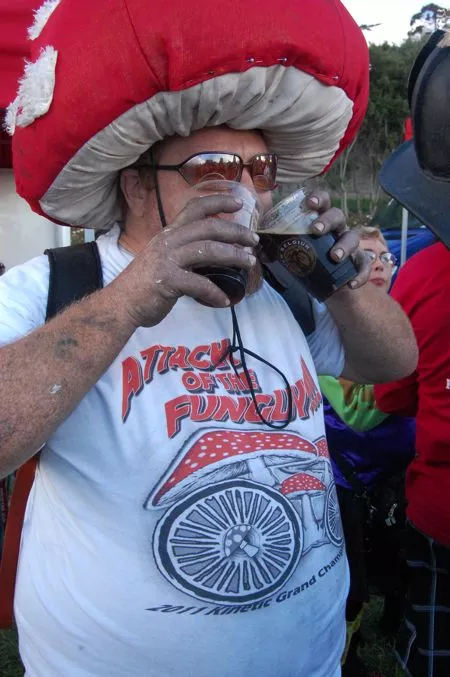 Yahoo!
The NewlyDeads - 1st Place Art/Spectators Award Winners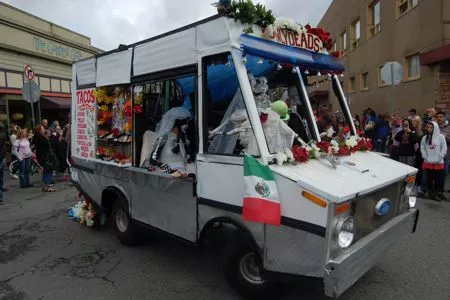 The NewlyDead team displayed impressive pagentry while entering the Arcata Plaza accompanied by a New Orleans-style brass jazz band.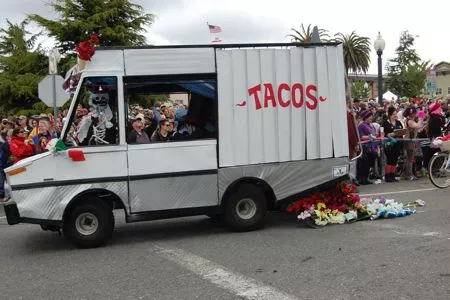 Mr. Fish (ACE)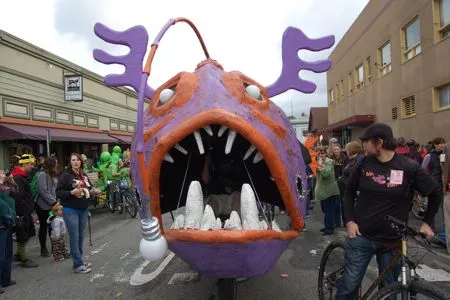 When the Journal asked this sculpture for its official name, the driver said, "listen." He pushed a button a button and a deep voice uttered "MR. FIIIIIIIIISH!" If you've seen the Mr. Fish commercial, you know it.
The Bottom Feeders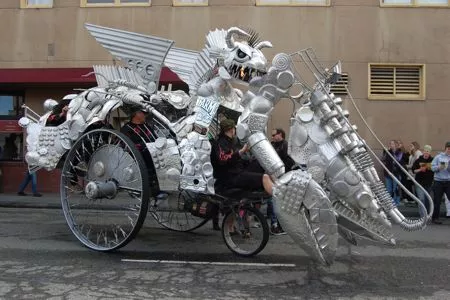 2011 marks Bottom Feeder Captain Duane Flatmo's 30th year of Kinetics. Earlier this month the Journal spoke with Duane about the significance of the milestone. Read more here.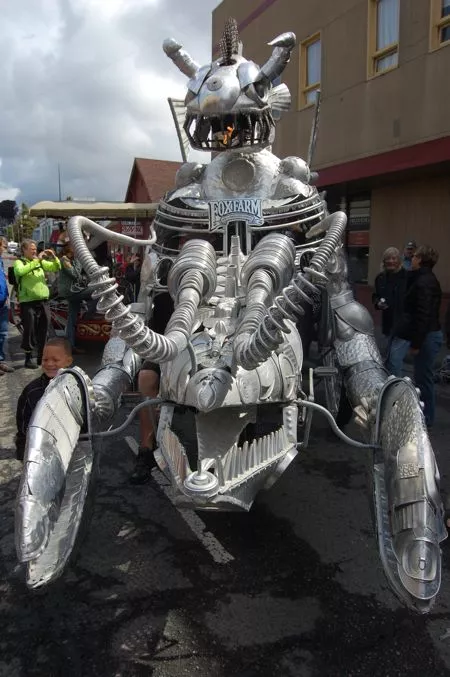 Betty Betty Chinn Chinn - Best Junior Entry Award Winner

Melvin (ACE)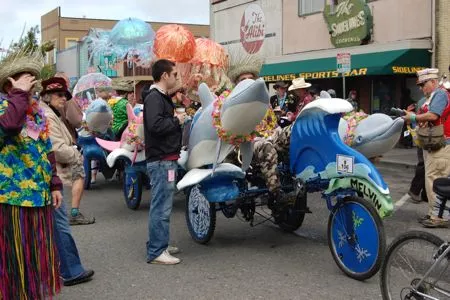 Coho Cruiser
Knee High Puppet Stage
Road Warrior - Best Bribe Award Winners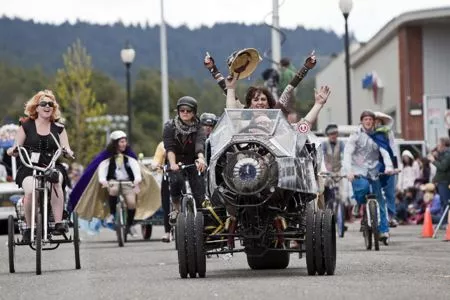 Tempas Fugitives (ACE) - 2011 KINETIC GRAND CHAMPIONS!!!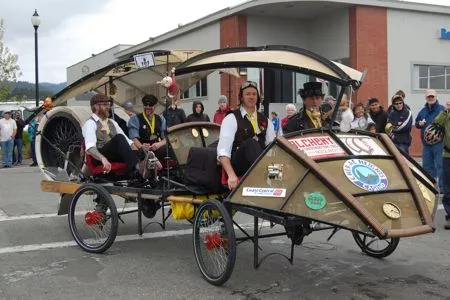 Sleek, sturdy and superb. Tempas Fugitives kicked all of the asses and were declared 2011 Kinetic Grand Champions. Glory acheived.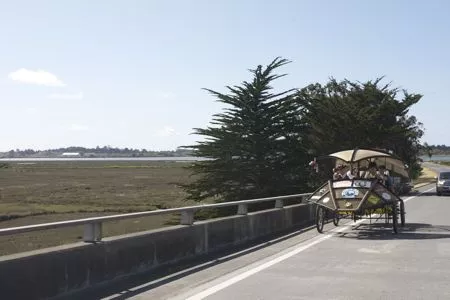 The Jeep - You Klever Rascals/Biggest Splash Awards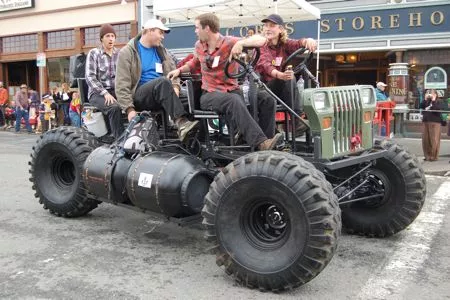 Spilt Milk
Bonnie and Clyde Death Machine - Racer's Choice/6:32 Award Winners

From KHUM interview: "We're cruising at 25 with 45's!"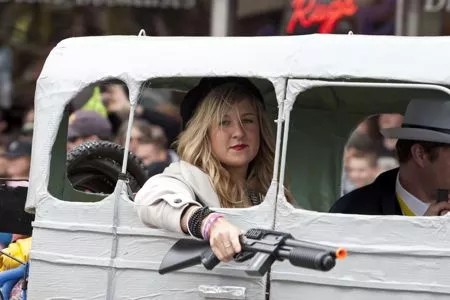 Sprocket Brothers Private Eyes (ACE)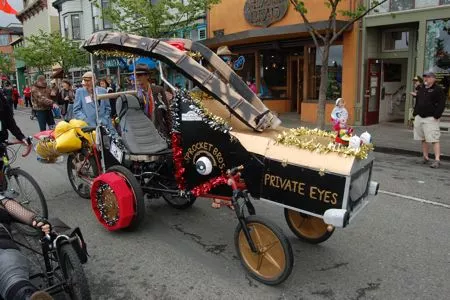 Sprocket Brothers Private Eyes held the distinction of having the fastest time among ACE Award-worthy sculptures. Not too shabby.

A Piece of Cake (ACE)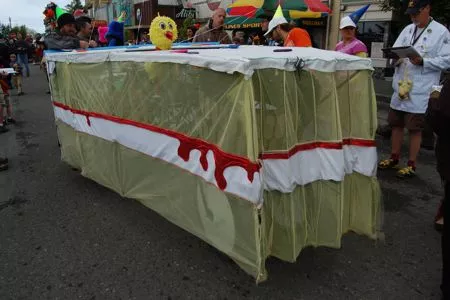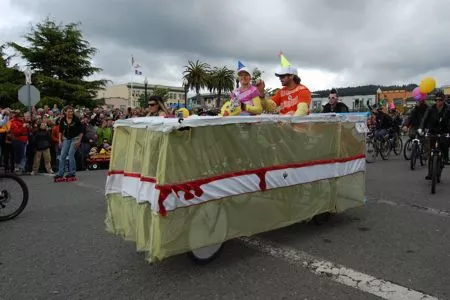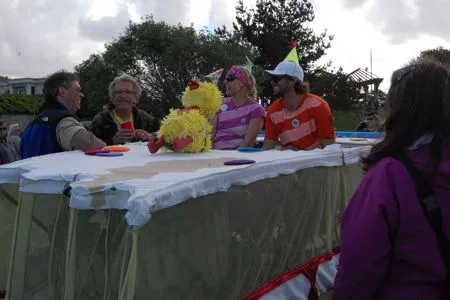 Bouncing Friendly Gnome (ACE)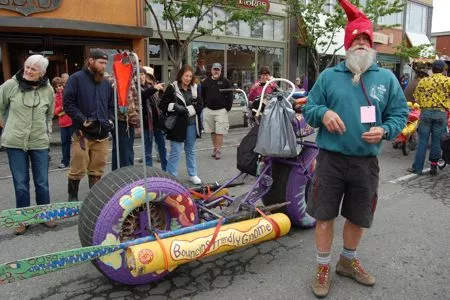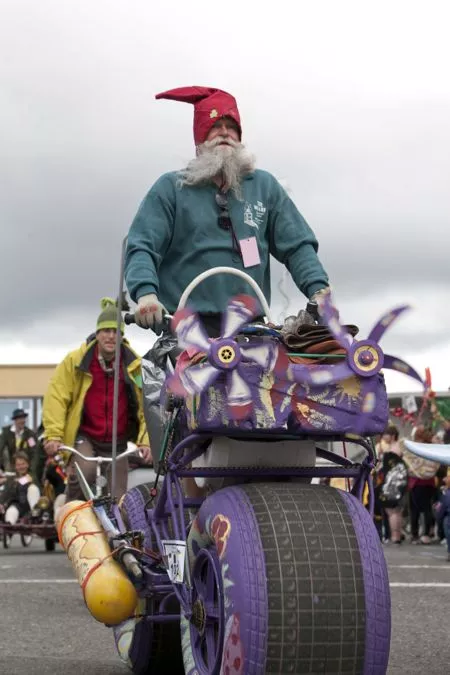 Red Rocket 53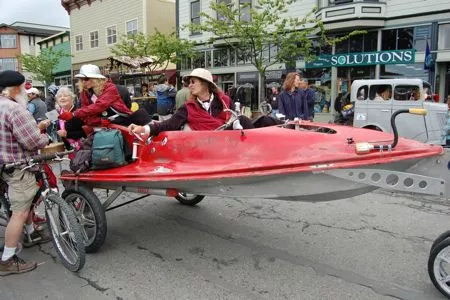 Falcon Mobile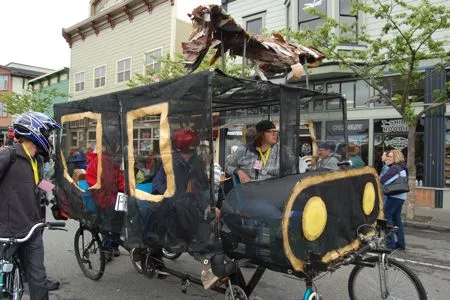 Horseless Carriage 2.0
Horseless Carriage 2.0 may have lost their ACE Award but were, for what's it's worth the first sculpture across the finish line in Ferndale on Day 3.

Hook and Ladder 420 - Most Cited by Kinetic Kops Award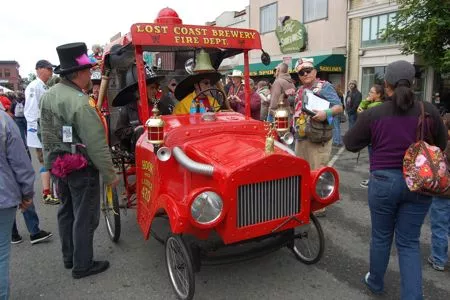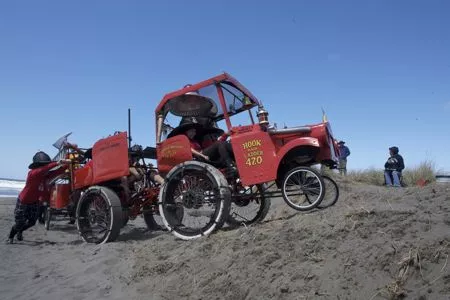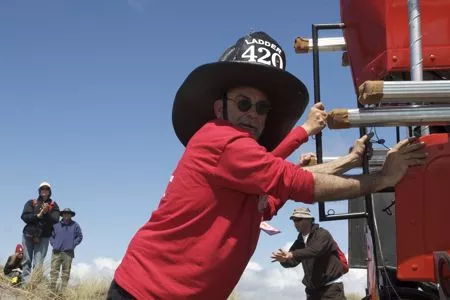 Slugtastic - Mediocre Award Winners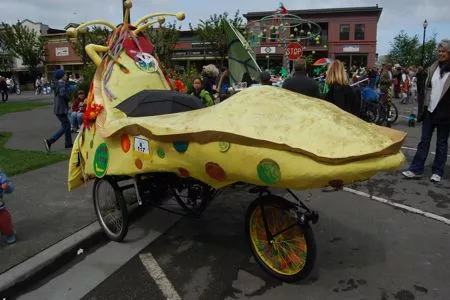 Visualize World Peas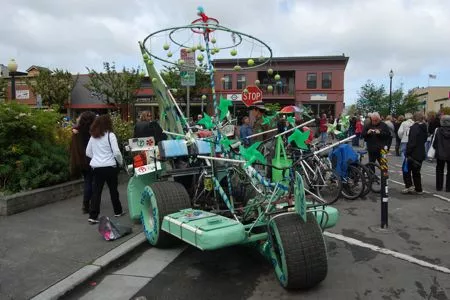 Fros 'N' Peas (ACE) - One For the Little Guy Award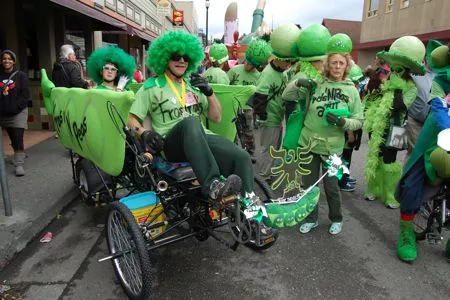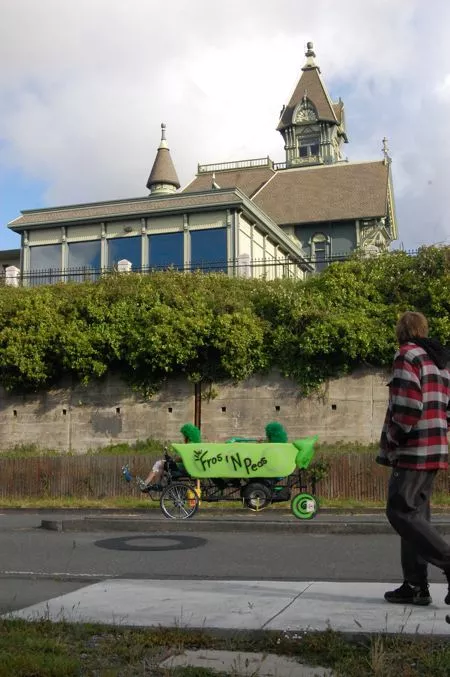 Woody Endeavor (ACE) - Best Engineering/Golden Flipper Award Winners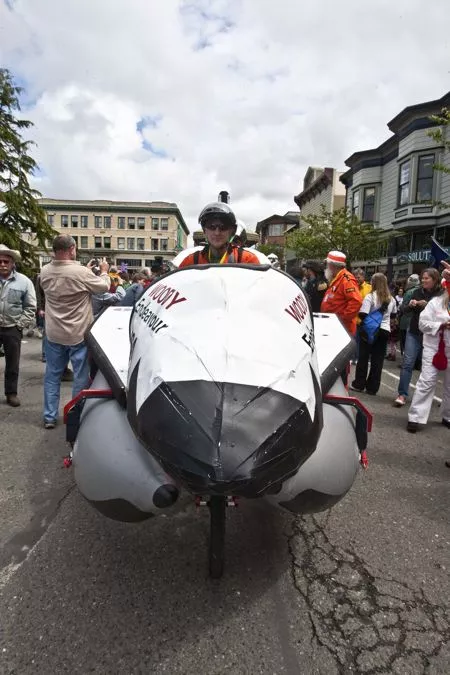 Naughty Bears Picnic Basket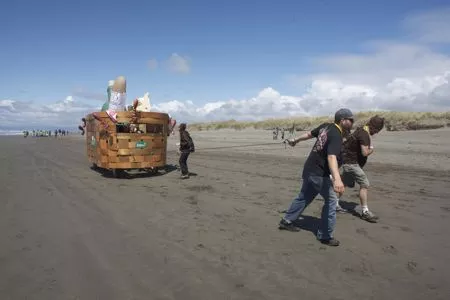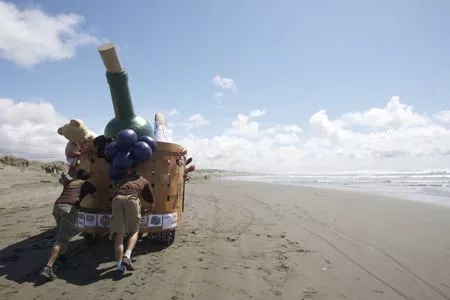 The Last Cycle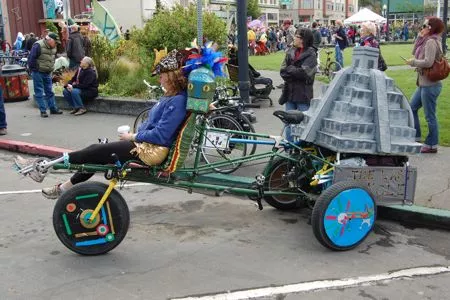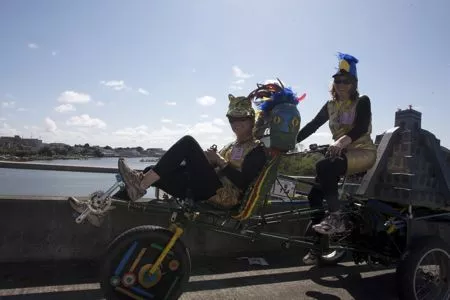 Baggage Claim (ACE) - Teddy Bear Award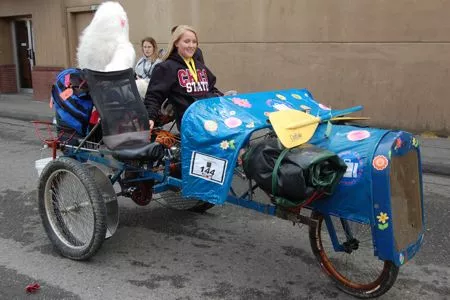 Baggage Claim shocked many by being the first sculpture to cross the finish line at Crab Park on Day 2. Kudos, ladies!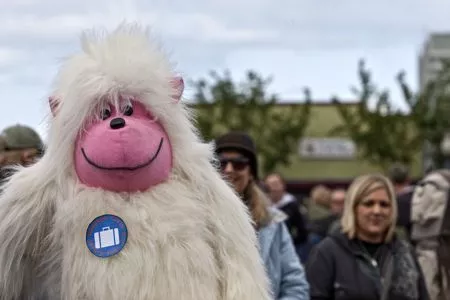 Parlour Car - Golden Dinosaur Award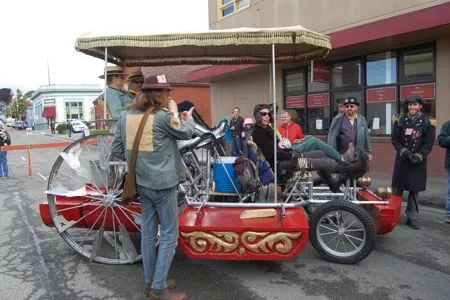 KHUM Radio's Larry Trask reported that the Parlour Car is the first sculpture of 2011 to break down. Broken axle. Bummer.
5:45 UPDATE: ... and yet they made it to the finish line. Cheers, crew.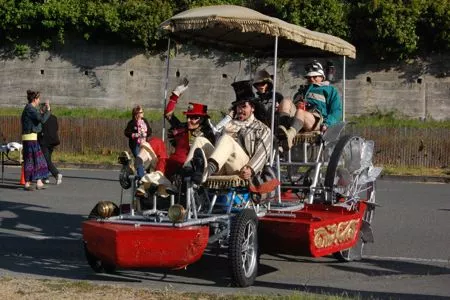 Glamorous Gladys - Best Campsite Award Winner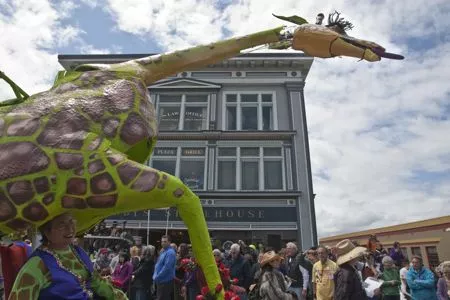 June Moxon' Green Giraffe gaffed by going the wrong way at the noon whistle. Giraffes aren't that smart. They eventually figured it out.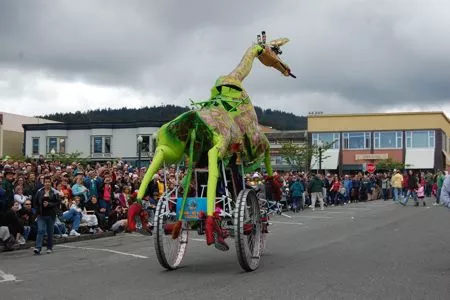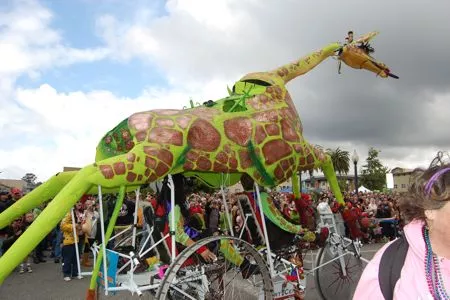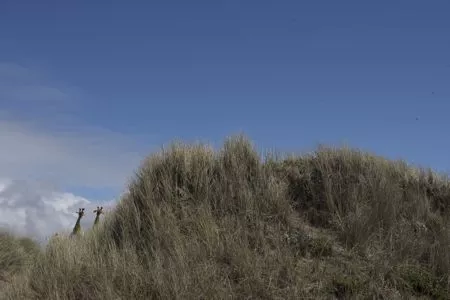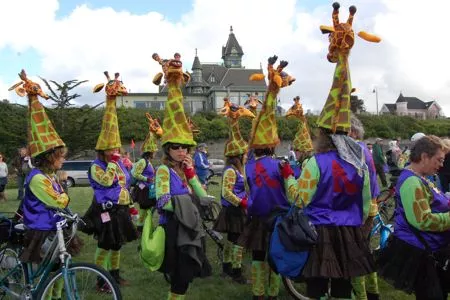 The Cyclops - Golden Flipper Award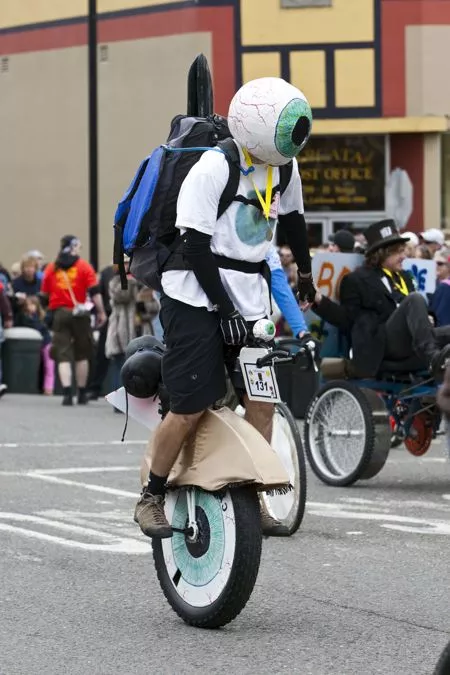 That's right. Just a unicycle. Those who witnessed The Cyclops make its way through the sand said it was "a sight to behold." KHUM reported that it took Cyclops took three glorious attempts at Dead Man's Drop before making it through.
Bozo & Reason (ACE)