If you've followed the news over Memorial Day weekend you've heard about the veteran's biker run, Rolling Thunder, probably because Sarah Palin crashed it for photo op purposes.
Blue Lake resident Tish Sloan took off last week to join her vet dad on a pre-Thunder journey called the Run For The Wall (www.rftw.org). She shot a lot of photos along the way and asked if she might share them with our readers. We do so in honor of our military men and women, living and dead, to help remember them this Memorial Day. Tish takes it from here:
Run For The Wall is a motorcycle ride of military vets from L.A. to Washington D.C., arriving the weekend of Memorial Day [before Rolling Thunder]. The purpose of the ride is to raise awareness of veterans' issues, and of POW/MIAs still unaccounted for. I come from Humboldt County, CA, and did not think of myself as a "patriotic" person -- I am not a fan of the war machine. But being on this ride, and meeting these men and women, I am learning that many of them aren't either. Many of them had no choice in the matter. And they have told me their stories. Grown men have shed tears telling me how much this ride means to them. It has changed their lives to be able to ride together and share their grief, and let go, and heal.
Bikes lined up in Rancho Cucamonga the day before leaving.
Bikes in the lot of the meeting hotel in Rancho. Almost all the bikes have the little POW/MIA, and an American flag attached to the back.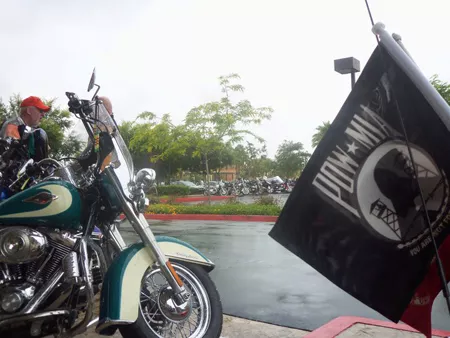 The next morning the place was crawling with older bikers in their vests covered with patches and pins, and the parking lot seemed filled with bikes. I admit that I had a few moments of "Oh my god, what have I gotten myself into.... 10 days of this??", but after meeting some of my dad's friends and receiving very warm welcomes and lots of hugs, I found myself in the lobby after lunch speaking with Terry, a biker and Veteran from Las Vegas. He told me that the ride had made a different person out of him. He'd never been able to talk about his experiences in Vietnam. Then he paused. He was crying. We'd been talking for about two minutes. He showed me a medal of honor that another vet had given him on a previous run. Said it was one of the proudest things he had. Then he said that he wouldn't be going "All The Way" (a RFTW battle cry) because he had to go home for medical treatments. He told me very matter-of-factly that he had cancer due to Agent Orange. Whoa, I thought. This is going to be intense. Then, while explaining how much the run meant to him and how amazing it was that they were all there for each other, he admitted that on his first run in '03 he couldn't bring himself to go down to the wall when they arrived in DC. It was too much. The second year, two other riders, "Ghost" and "Spook", took him by the hand and led him down to it. His voice caught, and as he wiped away a tear he said, "See?"
I was beginning to.
As we start the pack goes on for 2 miles.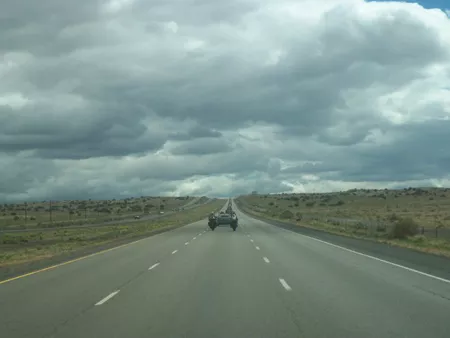 The Angel Fire Vietnam Vet Memorial in New Mexico. Amazing place. You can feel it. A father started building it 5 days after he lost his son in Vietnam in '68. This is the chapel. It sits on top of a hill facing east in Angel Fire, NM. Years later the father brought a handful of New Mexico soil to Vietnam. He walked in the places his son walked, and spread the soil near where he was killed. He then scooped up a handful of Vietnamese soil and brought it back to spread around the memorial.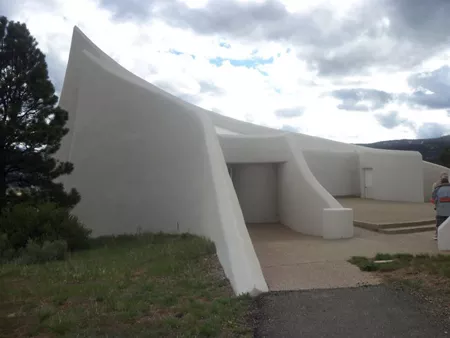 My dad in front of the Armory bldg in Goodland, KS. This town also went all out with the flags and an amazing meat and potatoes dinner. Boy scouts helped serve the dinner and cleared our places. They had a BIG ASS flag covering an entire wall.
The moon over his shoulder.
Entrance to Junction City, KS. They had hundreds of people lining the streets holding flags. They'd been there for us for 2 hours.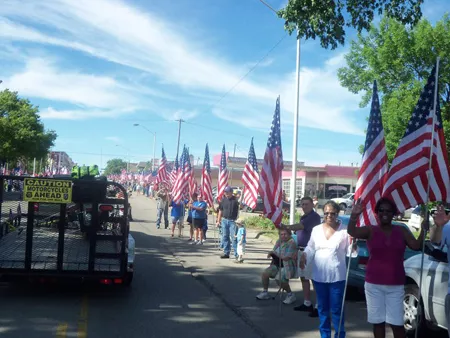 Honor guard that placed and removed the flags for the ceremony. These guys are not young, and their steps and moves were dead on.
The pack lined up ready to leave our lunch stop yesterday in Concordia, MO. They really pack 'em in for staging, then they roll out in rows of two ("2 up").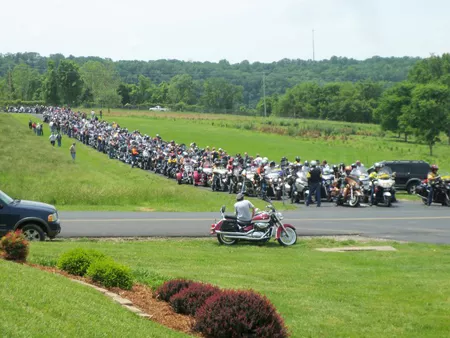 Scott, our sideman for a while yesterday. This pic didn't really capture it, but for the first time in a while, we had a police escort, so we just flew thru Missouri with no traffic, and he just looked as happy as a pig in shit the whole time to just be cruisin down the highway. Nice guy who saw some gnarly shit and has managed to get over it and be happy to be alive.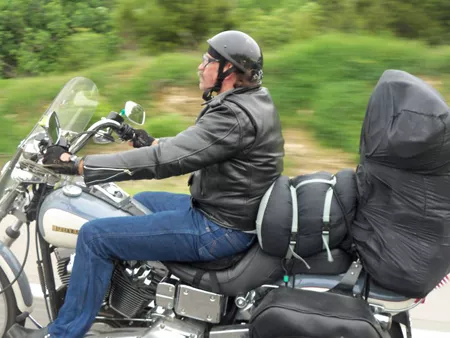 Several cars on the run are decorated like this.
Someone explained to me that these little towns are so darn patriotic because for the youngsters, military service is one of the only ways out of podunk USA, so they have more enlistees. Because they have more soldiers, they have an inordinately large number of soldiers missing, wounded, and killed in action. They have to be patriotic to believe that their losses meant something. To remind each other that they remember.
People lined up on bridges to greet us all along our route. Huge flag hanging from a scissor lift!
This is Josh at the VA hospital in WV. He was in Iraq for 10 years. Told me they used to get equal time off for time served in active duty. After putting in a year, they changed in to half time. So he got to see his daughter born, then got shipped out. When he got back she was walking and talking. He offered me a ride the next day into Rainelle - one of the more impressive receptions. Josh was riding for his cousin, killed in action in Iraq 9th of Jan. '08.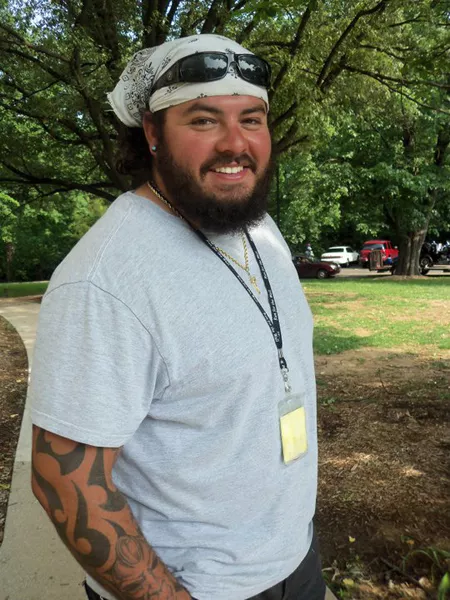 Sometimes the pic says more than any words could.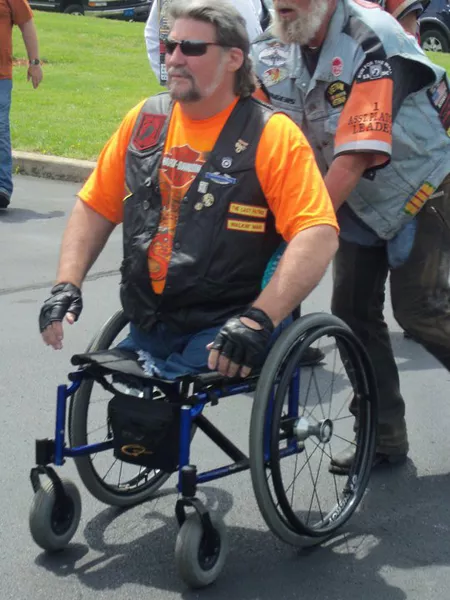 Lined up to leave the memorial in WV. About 800 by now.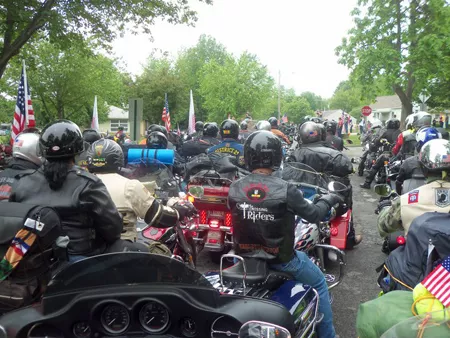 The war memorial in WV is designed like a sundial. On the ground are the names of the state's fallen. It's designed so that the point of the shadow falls on the soldiers name at the time and on the day of his death.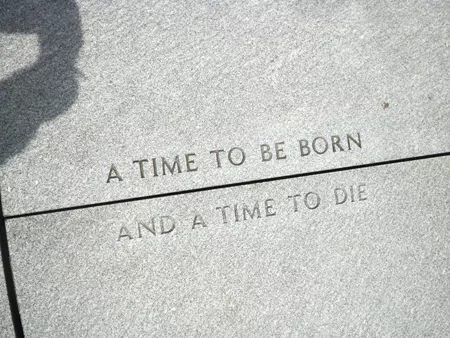 This guy was up there the whole time, taking pix, and spent a long time kneeling and touching one name (missed that pic) then he stood and watched the riders take off while tears ran down his face.
Lindsay and her little brother PJ. She can read and spell and do simple math. She's 3. We had a great chat.
Platoon leaders. The pack is split up into 8 platoons with their own leaders, assistant leaders, and 'rear gunner' at the back. Keeps the pack organized and provides breaks in the pack for trucks and cars to get thru if necessary. They also act as camp counselors when problems come up.
Me and my dad in front of the WV war memorial. I have no idea what's up with my expression here. Note the big green pin. It says "FNG" - stands for "Fuckin New Guy," a military expression for newbies. When we get to the wall, someone random turns it upside down to show that you are no longer the "FNG". Also got a compliment on this day on my cool boots from a gnarly biker. :)
Plaque on one of the side sections to honor recent KIAs from WV. Desert Storm guys would be my age.
WWII KIAs outnumber other wars by an insane number. Two of my grandpas were there. My dad's step-dad was a 101st airborne paratrooper who was at Normandy. My dad's dad was a Medic in WWII, awarded the Bronze Star because he went out into an active battlefield to retrieve a wounded soldier that 3 other medic teams had died trying to get. He got him. He never talked about it until his last years. Came home a shut-down man. Became an accountant and played golf. He died of a heart attack while I was directing "The Laramie Project" in '02. Dedicated the show to him. There were several times during this trip that I felt their gaze.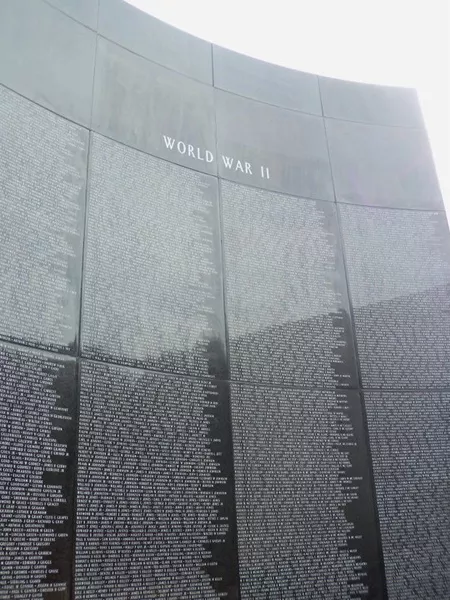 The WWI wall is opposite the Vietnam wall. I noticed that most of the guys that were able to go into the middle stayed as far away from the Vietnam wall as they could. One guy only made it to the railing outside the circle, and was leaning on it white-knuckled and trying to contain himself. As we were walking out, my dad stopped and put a hand on his back. The man exhaled, turned and accepted my dad's hug. I hear my dad say, "It's all right..." before I left them. He later said, "THAT is why we are here."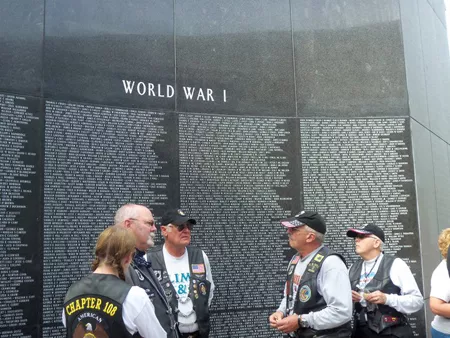 This is just the West Virginians lost in Vietnam.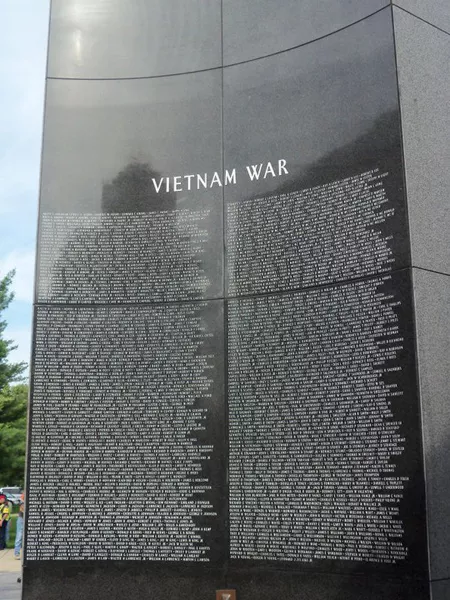 Arch over entrance to Arlington. "On fame's eternal camping ground their silent tents are spread, and glory guards with solemn round, the bivouac of the dead."
The west face of the arch is inscribed with the words:
"Rest on embalmed and sainted dead, dear as the blood ye gave, no impious footsteps here shall tread on the herbage of your grave."
So. Many.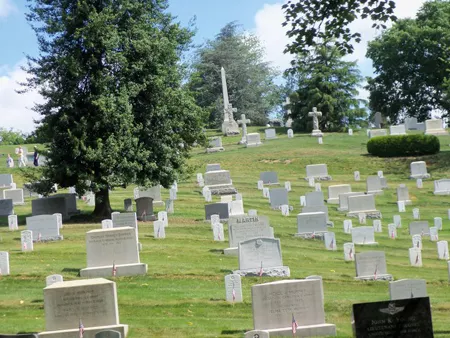 "Here Rests In Honored Glory An American Soldier Known But To God"
The walls of the Lincoln Memorial are inscribed with a speech of his. This is the end of it. It was spoken in reference to the Civil War, but rang so true in our current context.
Almost the entire contingent of Run For The Wall just after the group photo in front of the Lincoln Memorial, which is behind me. In the distance are the empty reflection pool (drained for repairs), the Washington Monument, and the Capitol.
The one name I was able to find on the wall of the two that people gave me: a college friend of my college professor. So many names...
Unfortunately, I let my memory card fill up at that point and didn't get other photos I wanted of the final experience. It seems anti-climactic, but it also reinforces a lesson that I am often reminded of... it isn't about the destination. It's about the journey. I feel I learned more about our country and about patriotism and about politics than I could post in several essays. I learned a few things about myself, about my dad, and about my beliefs. And I think I was there to help a few of these guys. I am still reeling from all of it. Can only sum up the entire experience in a few words: honor. gratitude. loss. grief. family. debt. pride.
And the words of a trucker somewhere in middle of the ride upon seeing the pack of bikes flying the colors, in his mid-west drawl, "Now that's America - right there on those bikes."
Mission accomplished.