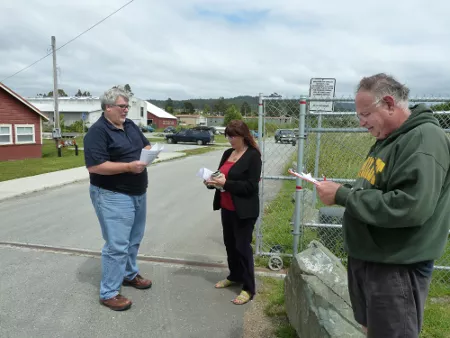 (UPDATE: Above, a photo by NCJ's Bb Doran from the protest today -- more an info-swap sesh.)
Neighbors of Cypress Grove Chevre, on 1330 Q Street in Arcata, say they'll be descending upon the world-famous goat-cheese operation this afternoon at 3, pitchforks loaded. OK, they didn't say anything about pitchforks. But they're mad. Or confused. Concerned, shall we say, in only the way righteous Arcatans can be.
Word of the protest went up yesterday on a Facebook site created by Lee Sobo called "Stop the Industrial Dairy in Arcata." A paid advertisement announced the site on Facebook. The site alleges that Cypress Grove is buying land nearby and "that there will be 1200-1400 goats, a concrete-floored barn and processing facility, and manure will be liquified and sprayed on fields around us."
Subsequent posts lay out more concerns: What about goat flu? Traffic from feed trucks? The smell? The noise? Escrow on the land, they'd heard, was supposed to close June 8 -- when were they planning to let the neighbors know? We want an EIR!
One lone voice, that of Sara Mosser, urges everyone to slow down and get the facts "before getting overly emotional."
But it seems folks out there believe the inevitable is coming to pass: Homegrown little Cypress Grove Chevre, founded in 1983 by Mary Keehn and sold last August to Swiss milk processing giant Emmi Holding (USA) Inc., is becoming a corporate monster.
But that is not the case, says Bob McCall, Cypress Grove sales and marketing manager, who answered the phone when we called him earlier today.
Yes, they are looking at buying 23 acres across the street from the current Cypress Grover operation, and yes, it is in escrow -- but it is not a done deal and definitely not happening by this Wednesday. McCall said some of the stuff folks were saying about Cypress Grove's plans weren't accurate. It will not, for instance, be an industrial feedlot, he said. It will be a goat dairy. Yes, they would build a big barn and put 1,200 to 1,400 goats in it -- the equivalent of 150 cows, he noted; about three acres total would have buildings. Yes, they would feed the goats the solid types of food goats prefer, but the goats would be free to roam, to come and go from barn to pasture where there'd be grass and bushes to nibble. And the manure?
"We won't liquify goat poop and spray it on the fields," McCall said. "We will have large bins to compost manure in."
The big barn and the manure composting process -- layering fresh hay every day onto the manure the goats sleep and walk on, periodically shoveling that mixture into covered, leak-proof bins to compost some more -- will be modeled after goat farms that Keehn saw in Holland. "This will be the most sanitary goat dairy probably in the United States, because we'll be able to control all of the elements," he said. "They'll be fed very well -- solid food, grains, alfalfa and woody things. We'll mechanically milk them, like every other dairy in Humboldt County does [including some they buy milk from now]."
He said there would be some additional traffic at Q and 17th streets. And it will be smelly, but only about three to five times a year when the barn's cleaned out; otherwise, he didn't anticipate it would smell.
He also said that the company has all along been planning to share its plans with the neighborhood -- once it has its ducks in a row. But, he added, the company is not required to get any land-use permits under the right-to-farm act.
Cypress Grove Chevre currently gets goat milk from about seven local families, said McCall. "We buy every drop of commercially available goat milk in the county." He said that's often not nearly enough milk to meet their demand, so they also buy goat milk from outside sources. He declined to specify how much or where from, however. "That's something our competitors would love to know!"
The company will continue to buy all the local goat milk it can; the new goat farm won't replace those sources. It will be an expansion to meet the ever-increasing demand for CG's cheese.
"We are starved for milk," he said. "It's been double-digit growth -- steady, for years. The popularity of small-batch, hand-crafted, artisan cheese has exploded in the United States, and we're lucky to be at the forefront of that. The [purchase by Emmi] did not affect that popularity. But it did allow us the money to consider having our own goats. Mary had her own goats at the beginning, and we want to go back to that."
McCall said a key protest leader, Karen Davidson, actually visited with him and Keehn this morning.
"We had a very nice conversation," he said. "We talked about all of the misconceptions, and then she said she wished the protest wouldn't happen and she wouldn't be leading it. She left, but then she came back and said it had a life of its own now and would likely still be happening."
Davidson, reached by phone, said it was indeed a pleasant conversation. Keehn showed her a film, even, of a similar but much larger dairy operation in Holland.
"It did not make me feel better," said Davidson, who moved to Arcata from Wisconsin in 2009 and lives on Q Street with her son and his family. "All of our house looks out on the field we're talking about. And I learned it's going to spoil more of our view than I thought: They're building five buildings instead of just one. Who wouldn't be worried about a building the size of the [Arcata] Plaza going up in the field they look out on? And they say it wouldn't smell most of the time, which is difficult for me to imagine. My main concern is, I don't think it should be this close to homes and schools."
Davidson said she asked Cypress Grove folks if they'd consider looking for another site within five to 10 miles, and they said they would be open to that.
McCall, in a later conversation, seemed only slightly surprised by the uproar. "We half expected it," he said. He hoped folks would come to trust the style of Cypress Grove's proposed new goat farm, as well as its intention.
"It's like foreign oil," he said. "It'll lower our dependence on outside milk."