"Our history defines who we are. It shapes us into this moment, the present..."
So begins the inscription on a mural by former Eureka High School student Hannah Larkin, set to be unveiled at the school cafeteria Wednesday morning.
One thing you can say about Eureka High: It has history. Founded at the end of the 19th century, it's the oldest continually operating high school on the North Coast. When Larkin was attending Eureka High, she decided she wanted to tell part of that long history with a mural -- a long mural. It took longer than planned, and getting the mural hung at the school took still longer, but now the historic project is done.
"Finally," as Larkin said with a sigh when she called with an invitation to see the unveiling. The mural saga began in 2004 when she was enrolled in the EAST (Environmental and Spatial Technology) program during her senior year. "You're supposed to do a project that benefits the community, do something on your own," said Larkin. "I'd never done one before, but I decided to do a mural."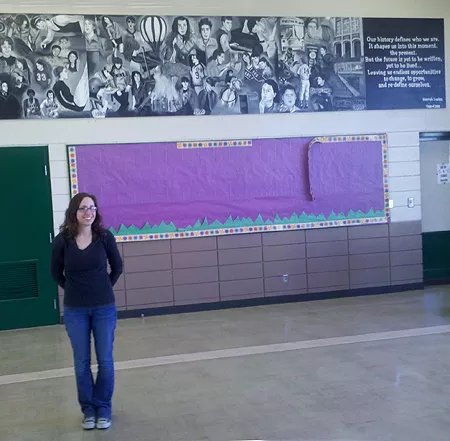 She did not really have a lot of guidance on how to proceed. No one at the school knew much about murals. She called noted muralist Duane Flatmo; he advised her on the proper type of plywood to use. "Other than that, I just kind of winged it," she said.
Pulling together some funding from local businesses, family and friends, she bought a stack of plywood and some paint and dug into history, via class yearbooks. "I ended up spending a few months scanning images from all of the yearbooks of Eureka High, ever," she said -- 105 years worth. "It took a long time to go through the yearbooks because I was looking and learning, like, oh-my-gosh, these people look amazing."
She selected photos of the school, its students and teachers, especially candid shots, searching for "different clothing styles, the uniforms of the sports teams from back then, things with a different feel."
She ended up with a photomontage, arranged chronologically with people and scenes divided into decades starting with the1900s. After transferring the images by projecting the collage onto the plywood sheets, enough for a 48-foot long montage, she began the long process of painting faces, hundreds of them. It took longer than planned and she was still painting when she graduated in 2005.
By the time she finished in May 2006, things had changed at Eureka High. "I had originally planned it for a certain hallway at the school, but because of retrofitting and other things on their to do list [installation] kept getting pushed back and pushed back," she said.
When the earthquake retrofit was done, it was determined that the hall she'd chosen would not work out. Another space was selected, then another. "They've had like four principals in four years so I had to keep going to new principals and say, 'Hey, I don't know if you know about my project, but I'm waiting to have it put up. Can you help me push it along?' They'd say yes, then another one would come in and I'd have to do the same thing. It's been sitting there for years. Now -- finally -- it's up."
EAST teacher Ron Perry, who helped shepherd the project, explained that Larkin's work was part of a Eureka High initiative called Pathways. "Pathways are essentially high school majors. Students can pursue career interests and receive credit for it. She did this as part of her service pathway." Perry sees her persistence seeing the project though as "emblematic of what we want out of EAST. Think about it; how much passion did it take to see this through and finish it?"
As of Tuesday, the mural was covered with tarps awaiting a Wednesday morning unveiling ceremony. Larkin, who is about to complete her art degree at Humboldt State, will be there to give a short speech at what Perry describes as an all-star honor breakfast.
"Every semester each teacher picks one student as an all-star," he explained, "not necessarily the kid who got the best scores or who's the best athlete, but someone whose making the most effort working towards their educational opportunities. It's the same sort of effort Hannah put into finishing this. We admire that."
The last panel in Larkin's mural shows students from post-2000, the new millennium, more than 100 years after the school was established. It concludes with her thoughts on past and future:
"Our history defines who we are. It shapes us into this moment, the present. But the future is yet to be written, yet to be lived... leaving us endless opportunities to change, to grow and redefine ourselves."
Did her long, often frustrating art project redefine her? She's not sure. One thing she's sure of, she's glad it's done.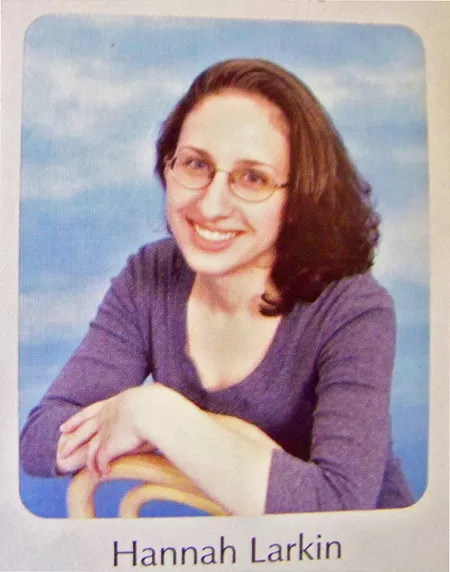 Hannah's Senior class yearbook photo (courtesy of Hannah Lakin)
Below: The mural in place (photo by Ron Perry)