Kaylee and Nick Savage-Wright are the Journal's teenaged sister-brother correspondeds covering last weekend's Outside Lands Festival in San Francisco. (All photos by Kaylee Savage-Wright.) First up, Kaylee: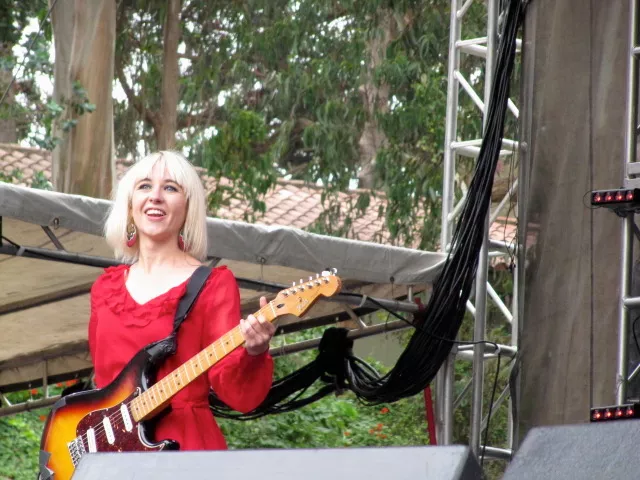 After hours of anticipation and dozing off in the car, we finally arrived in San Francisco and headed straight for Golden Gate Park. Getting into the festival was luckily quick and easy; by now we were familiar with the ways of getting through the line at the entrance, stepping past security into the throngs of people and overpriced food vendors and the sounds of music playing from distant stages. Soon my brother and I split up to find our friends and go see the different bands we'd been looking forward to.
I went off to The Joy Formidable and was immediately entranced by their Welsh charm and energy, Ritzy Bryan singing her heart out with her band mates passionately playing at her sides. Down in the crowd everyone shouted out their love and rocked out to Joy Formidable's set. They made a dramatic exit by going crazy during their last song -- Ritzy tore out her guitar strings amidst the roaring of her fans.
After that I headed over to the Polo Field to see The Original Meters with my friends, though I didn't get very into their funk sound. Mostly I was there to save a good spot for MGMT, giving up the chance to see Foster the People, who I love. But I heard MGMT would be incredible. Except that MGMT turned out to be a sort of disappointment. Their psychedelic-pop-rock was enjoyable enough, yet at the same time they played too many mellower songs, losing the energy of the audience that had been so present when they opened up with "Time to Pretend" and "Electric Feel."
Phish, who came on next, were fun to dance to at first, but after a while the constant jamminess got a little boring and I started wishing they would be done.
When their first set ended, my friends and I made our way across the fields to the other end where The Shins would be playing. The crowd was already so large we ended up having to stand off to the side, far away from the stage. By the time they came on I was tired and sore, so I didn't enjoy the show as much as I probably should have, but that's not to say The Shins didn't put on a great performance to end my first day at Outside Lands.
The next morning I arrived early at the Lands End stage to scope out a place near the front. My friends and I had planned to stay there the whole day in order to have perfect spots for the Black Keys and Muse, since we knew thousands of people would be crowding in later, hoping for the same thing.
Starting off the day was Macklemore and Ryan Lewis, who I'd never listened to before but have now become new favorite artists of mine. They brought vigor and great beats and humor to the stage, driving their fans wild. When Macklemore would announce what song they were playing next I found myself cheering along with everyone else, excited even though I had no clue what the songs were.
Replacing them were The Greyboy Allstars; I don't remember much of them, still blown away by Macklemore and Ryan Lewis' performance that I just wanted them to come back on. Still, Greyboy Allstars dished out a great supply of jazz despite a malfunction with Chris Stillwell's bass.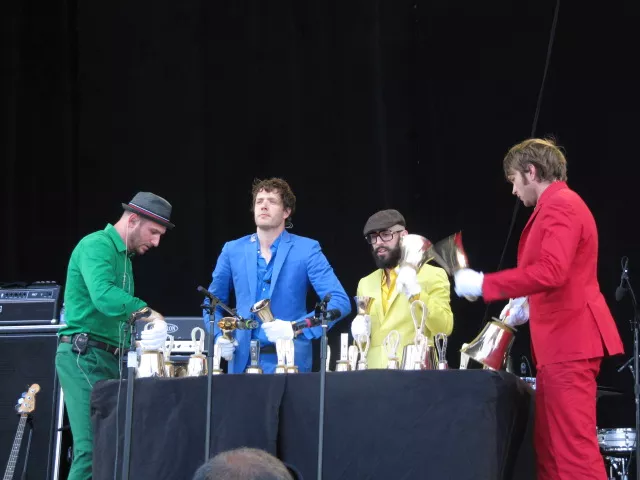 OK Go, another band I never listened to much but ended up falling in love with, put on one of the most fun shows I've ever been to. They didn't have a crazy light show or an insane mob, but they still captured the crowd from the start with their quirky charisma, bright suits, and their poppy, alternative songs. The whole personality of the band ramped up everybody; we all sang along, danced, and just had an amazing time. When I thought they couldn't get any cooler, OK Go took a break from their normal instruments and played a song with only handbells, to "cleanse" us, Damien Kulash said, because San Francisco was apparently too "unwashed." After our cleansing, OK Go also brought on their old band mate, Andy Duncan, to finish a song with them, which really got me.
Unfortunately, they had to end sometime -- and that time came too soon in my opinion -- but I could hardly lament the exit of OK Go as hundreds, probably thousands of people suddenly came rushing in for Arctic Monkeys, crowding in so much we were all literally packed together like sardines, hardly able to move because of how close we'd been smashed in. The swarm got so rowdy I was pushed from my spot in the front back into the fray of fans, finding myself separated from most of my friends and instead surrounded by tall, sweaty guys. Not so fun. Everything was crazier when The Arctic Monkeys, in their badass greaser getup, stepped out onto the stage and set off a mosh pit that happened to be right where I was. At least there were plenty of helpful people ready to pull others up when they were pushed down; I myself was saved a number of times.
When The Black Keys came on things somehow lost even more control. Now I'd lost everyone I knew, stuck all alone between sweating strangers, but it didn't deter me from having a great time dancing (or trying to) as the Black Keys drove the crowd wild. They were the only band I didn't get any pictures of, though, seeing as my arms were pinned to my sides by the wave of bodies around me.
Then there was the almost hour-long wait for Muse. Somehow I ended up getting pushed to the front, just one person back from the gate in a wonderful stroke of luck probably caused by everyone pushing forward, trying to get as close as possible to the stage. Even with my friends nowhere in sight the people around me were all nice and friendly; it's hard not to be when you're pressed awkwardly but resolutely against everyone beside, in front, and behind you. During the wait we chatted and joked about the horrendous smell of B.O. and one guy was kind enough to give me some water, since I was pretty sure I was dying of dehydration and needed something to drink.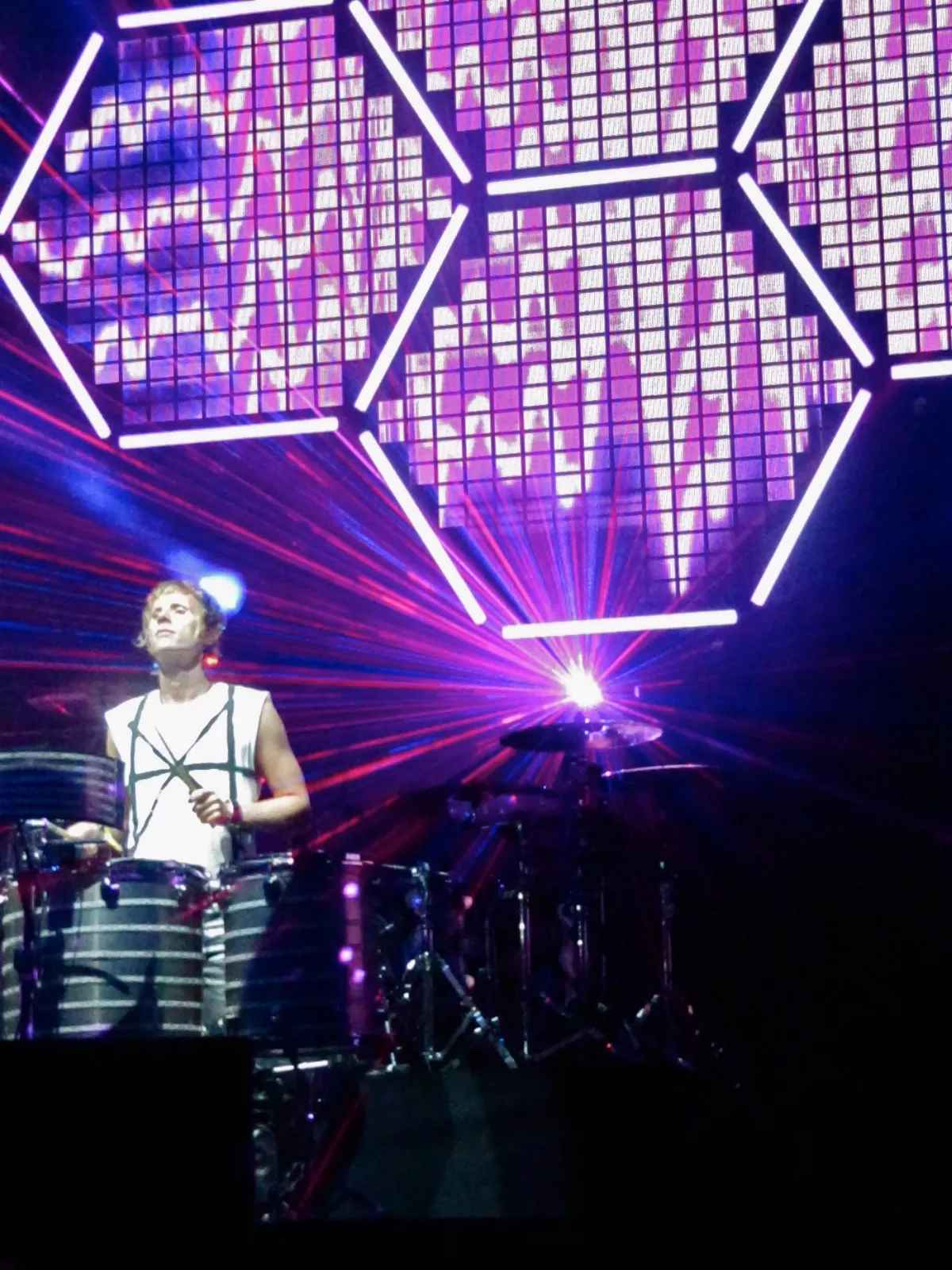 Finally, they appeared. Encompassed by smoke and fluorescent lights, Muse brought the crowd surging forward even more, and I was breathless -- not only from their dramatic entrance but also from the weight of too many people crushing me. Regardless of my near-death experiences Muse put on the best show I'd seen that entire festival. I never even liked them a whole lot beforehand and yet those two hours of being in that fanatical, passionate crowd, shouting along to Muse's lyrics, jumping up and down with crazed energy and watching the light show flare out behind the drummer (who I swear looked like Jamie Bell, but later I saw pictures and realized they look nothing alike) was such an amazing and mind-blowing experience that I fell in love for the third time that day.
We called for an encore when Muse's set ended and they obliged, much to our screaming delight. I wish encores lasted forever. Still, it was the best end to Saturday that I could have hoped for, and afterwards, when I'd found my friends, pretty much all I could talk about was how incredible Muse had been.
On the last day I woke up and got ready at a leisurely pace -- there weren't too many bands I knew playing that day so instead of rushing to get to the park early I was planning just to find my friends and let them lead me. A little late to Tune-Yards, the first band I went to see, I was further than I like to be from the stage but still was able to be swept along in the swaying and cheering of the crowd. I got much closer for Latyrx featuring Lyrics Born and Lateef, surrounded by a group of my friends as we all threw our hands into the air and bobbed along to Latyrx's rhymes. While it wasn't wild or super intense it was one of the best performances I'd seen that day.
After they finished I wandered around with some friends, catching a bit of Ty Segall from afar at the Panhandle Stage, refilling water bottles, buying shirts from the merch stand. We headed over to John Fogerty and joined in the carefree dance mob that had assembled behind the sound technician booth as well as the conga sort of line formed within the crowd. Then, worn out from all the skipping and jumping, we flopped down in the grass, watched a group of people get busted for having acid, and relaxed under the sun, enjoying the music from a lower viewpoint.
Besides John Fogerty we checked out STS9 for a little, but no one except me was into it so we left and went back to the Lands End stage where The Decemberists (who none of us cared much for) were performing. My friends and I sat down again; I took pictures of people out of boredom and observed a guy on stilts managing to keep perfect balance as he danced. That was probably the coolest part of being at The Decemberists.
Next on was the headliner, Arcade Fire. I'd had an inner dilemma about whether to see them or Deadmau5, but everyone I was with wanted to see Arcade Fire and I heard they put on an amazing live show, so I went along.
Mistake. I found myself wishing the entire time I'd gone to Deadmau5. First let me say that I do love Arcade Fire and I can't deny their performance was great, but at the same time I hadn't realized how exhausted or hungry I was. And the flailing man to my left was maybe too in love with the band. And the girl in front of me felt the need to lean back so much that her unmoving head was literally in my face the whole time. So with all these put together, plus the fact that I was in a spot far from the stage, I ended up regretting being there.
But it hasn't made me like them any less, because it's not really about having the perfect view or a fanatic horde. It's about the music, the chance for all those different people of different tastes and backgrounds to come together and show their love for this thing they have in common. Sounds totally cliché, I know, but after experiencing three days of Outside Lands, meeting new people, finding new artists to listen to, seeing the hippies and the metalheads and the geeks and everyone else all open up to one another I came to that realization. No matter what we're like in our regular lives, we can discard those walls between stereotypes for a few days and understand what has brought us all together: the music.
And here's Nick's take:
After checking in and getting my media pass, I was ready to experience my third year of San Francisco's Outside Lands Festival in Golden Gate Park. The grounds were set up similar to previous years -- broad expanse of grass, vendors and the Heineken dome between the four stages -- but I was stoked with the new side trails connecting the Twin Peaks and Sutro stages, making for faster, more convenient treks between bands.
The five-hour car ride had done its damage, so I hustled towards the nearest porta-pottie. I finally was ready to see some music. The first band I saw was The Joy Formidable. They were especially jamming for an early band on the first day. Right as they ended I sprinted to Collie Buddz to catch the last few minutes of their set. When they finished, I ran into a large group of my friends. We decided to catch some of Phantogram. A really good show, but right as they ended a crowd poured in for Foster The People. Although I love Foster, I wanted to get good seats for MGMT. While waiting for MGMT, I caught The Original Meters, who put on a really good show.
I was slightly disappointed with MGMT. They started off really well, playing some of the better hits, but faded off quickly into some of the more wacky instrumental tracks they have. I'm still really glad I saw them, I'm just not quite sure it was worth it to miss Foster. Anyway, onto the next big disappointment, Big Boi.
I knew he had been arrested a few days prior, but I was confident he would be out on bail and still play. He actually did make it, but then his DJ's equipment had some serious technology issues. Long story short (an hour-and-half long, haha) he never did play, though he did bring Dave Chappelle on for a few minutes. So in sadness and disappointment, I trudged over to the Shins and was quickly re-immersed in joy. And so the first day ended.
I had seen Macklemore & Ryan Lewis around a year ago in some tiny little pub in San Francisco. I knew they were very talented, but I considered them an underground rap group that would never get the recognition they deserved. I was (fortunately) very wrong. They had more energy than any of the bands the day before, and that's not an insult to those bands.
Then it was off to The Stone Foxes. Super fun; some insane moshing went down. Did all of the bands on Saturday get some sort of memo to jam as hard as physically possible? The crowd was also super good the entire day. Anyway, it was now time for some munchies (BLT wraps, all day, every day). With full stomachs and light wallets, my crew and I headed over to OK, Go!
Another energized show. My favorite part was when the main guy came out into the audience and played his guitar. I only stayed for the beginning of the Arctic Monkeys, but what I heard sounded pretty dope. I had to get close to The Roots and Girl Talk, so off I went to the Twin Peaks stage, the "other" headliner stage at the east end of the park. I got there pretty early and saw some of SIA, who was pretty good. I managed to work my way up to being only four or five people back from the front of the stage by the time The Roots started. The six-piece hip-hop band out of Philadelphia put on a great show.
When The Roots ended, I was able to push my way up to second person back, slightly to the right of dead center. I was glad because some chick that had been in front of me earlier decided she couldn't lose her spot for Girl Talk and took a piss right in the middle of the crowd. One of the grossest things I've ever seen. Luckily I was too amped to care, for Girl Talk was about to come on. There is no way to describe how insane the show was. The confetti cannons, the crowd, the light show -- everything was a perfect blend of energy and passion. Saturday was probably one of the best days of my entire life. No, actually it was for sure the best, and I don't see it being topped anytime soon.
Sunday started off slowly for me (being so tired from the previous days), but I was fully awake and ready by the time Latyrx, Lyrics Born and Lateef started. That was fun, but I was now ready for !!! ("Chk chk chk"). They were totally grooving. Next up was Major Lazer. Another great show with good energy in the crowd, plus two of my friends happened to be invited up onto the stage during the show, so that was pretty cool.
STS9 was really fun also, but I think Major Lazer was slightly better. Once STS9 was finished, my friend and I left for Arcade Fire, which I think was the best instrument-backed band I've seen. I was able to crowd surf during part of the show and ended up pretty close to the stage by the end.
And with that, the weekend was over. It almost seemed unreal, like a dream or something, but it was actually one of the most real moments of my life. The people who worked, attended and performed at Outside Lands 2011 made what could have just been another music festival into a life-changing weekend.