Yeah, it's a real love story, all right. Couple of kids with a stolen gun, selling tar heroin. Bags o' booty, sweet little ready-made mugshot, mementos of the affair ... oh, and handcuffs.
See, Derick and Ashley got busted. (Read the release after the break.)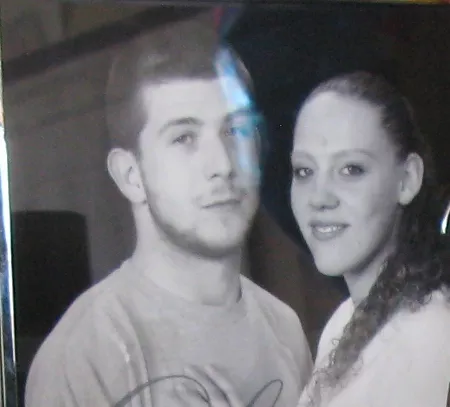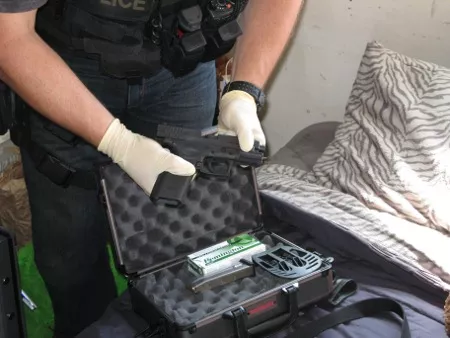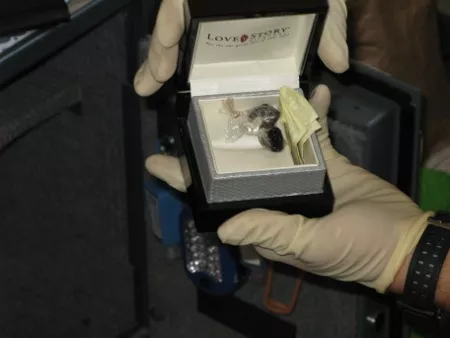 Eureka Police Department
604 C Street
Eureka, CA 95501
Phone: (707) 441-4060
FAX: (707) 441-4334
09/22/2011
FOR IMMEDIATE RELEASE
Subject: POP Search Warrant Nets Heroin, Stolen Gun, and Two Arrests
Contact: Sergeant Steve Watson
Front Desk (707) 441-4060

POP Office (707) 441-4373

Work Cell (707) 601-5464
On 9/21/11, at about 2:22 PM, investigators with the Eureka Police Department's Problem Oriented Policing Unit executed a search warrant at a residence on the 2600 block of Union Street, Eureka. The warrant was obtained after the POP Unit developed information residents there were selling heroin from the property.
During a search of the residence, investigators located and seized approximately ½ ounce of tar heroin, over $4,700.00 cash (suspected illicit drug sales proceeds), digital gram scales, drug sales packaging materials, and a stolen .40 caliber Springfield Armory XD semi-automatic handgun with ammunition. The handgun had been reported stolen during a recent residential burglary in Eureka.
Residents Derick Johnathan McElroy (22 of Eureka) and Ashley Rose Stogner (22 of Eureka) were arrested and transported to the Humboldt County Correctional Facility where they were booked for possession of heroin for sale and possession of stolen property.
Anyone with information concerning suspected drug sales activity occurring in Eureka is encouraged to call the Problem Oriented Policing Unit at (707) 441-4373 or the Humboldt County Drug Task Force at (707) 444-8095.
###