No, it did not snow last night. But it did snow on this day in history 105 years ago.
Local postcard collector Steve Lazar dug out this photographic postcard record of the unusual weather event, although it took some history detective sleuthing to figure out exactly when and where the photo was taken. (View from the Eureka Court House, Jan. 6, 1907.)
Apparently the snow was shortlived. A newspaper account at the time noted, "The day was raw and cold and the white carpet remained longer than usual but by noon it had nearly all disappeared," and goes on to describe "snowballing pranks" that caused property damage around town.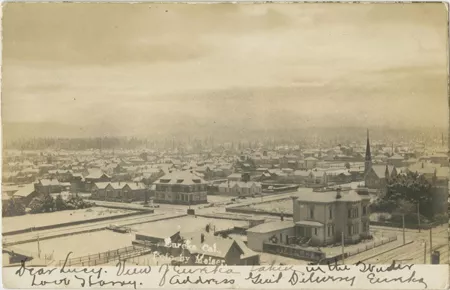 Mr. Lazar's account of his snow postcard research project follows:
Almost two years ago, I acquired one of my first old/rare "Real Photo Postcards" (often abbreviated on eBay as RPPC's). It was a shot of Eureka, in the snow - but without any immediately familiar notable buildings that would help determine where the shot had been taken and exactly when it was showing. Fairly early on in my postcard collecting, this was part of a two-card auction and represented my most expensive purchase to date ($26 for the pair). I like to think that I outbid my local postcard rival Leon (the rather high price is the most solid clue) but I cannot remember for sure (see Postcard Kings 2/17/11 NCJ for more on my subsequent encounters with Leon).
After arriving in my possession I paraded the card around at work to the usual cast of characters I had begun sharing my growing bounty with. [Steve works in the HumCo Planning Dept.] Many were native Eurekans and Humboldters, but all scratched their heads when asked to place the location. In subsequent weeks, I quizzed such local notables as Scott Brown (deltiologist and proprietor of our local antiquarian bookstore Eureka Books) and Ray Hillman (local historian and regular docent at the 'Humboldt Room' the historic books and documents archive at the HumCo Library in Eureka) but had no luck. Both Ray and Scott complimented me on the find, but were unable to precisely place the view. I began to wonder what it would take to solve this mystery and when the clues might come...
I subsequently ran into an acquaintance and colleague, Bob Libershal, at the Humboldt Room. I had my rather new collection of postcards in hand and shared them with Bob. While looking through my nascent collection, the "Eureka in Snow" shot by Meiser caught his eye. With a bizarre tenacity that I would one day come to treasure and awe, I watched Mr. Libershal zero in on the truth and clarity I had been craving. He walked me over to the wall of the Humboldt Room where hung a copy of a 1902 lithograph, a "bird's-eye-view" of Eureka (these illustrated "birds-eye views" were common and provide a remarkably faithful snapshot in time of the various areas they depict). Bob scanned the framed image and with an "Ah-ha!" or the equivalent, pointed to an illustration of a white Italianate two-story home with a corner-tower, hipped roof and 'widows walk.' Under the illustration was the caption "G.R. Georgeson Residence, Cor. 6th & J Sts."
As I volleyed back and forth between card and illustration, the similarity soon became clear, and I experienced an early dose of a now familiar enchantment and surprise as I crossed the divide of 100 years. This would be the limit of my newfound knowledge until recent months when Bob (now a regular historic confidante and compatriot) shared a discovery he had made while performing research on another project. I'm going to let Bob L take it from here:
I recognized the view from past historical research. The lower right side of the photo shows the rear of the large, grand house built for A.W. Randall in 1886 (later occupied by his daughter and son-in-law G.R. Georgeson). It was demolished in 1958 and sat at the northeast corner of Sixth and J streets. It's a view of residential Eureka towards the southeast from high in the County Courthouse. The key to determining the specific date was learning about a house being constructed, and apparently nearing completion then. This is the large house seen near mid photo, on the southwest corner of Sixth and K streets -- the site where College of the Redwoods downtown campus now is, across Sixth Street from Eureka's present City Hall. An article from a 1964 Humboldt County Historical Society newsletter written shortly after the demolition of that house was a serendipitous find and described the house as being "built about 1907." The article also mentions an earlier house that was moved from that corner site to make way for the new residence. Research of city moving permits shows one issued in August 1906 (moved only 1 1/2 blocks east on Sixth; it can be seen in the postcard).
With a focus on the winter of 1906-07, I read local newspapers of the time for the news of snow in Eureka. Beginning with December - no snow that month - and on to January... initially overlooking a snow news story on Jan. 7, eventually I found it somewhat buried on page 8. This postcard photograph by J.A. Meiser was taken on Sunday, Jan. 6, 1907 after an early morning snowfall. Monday's edition of the Daily Humboldt Standard newspaper told the story:
'TWAS REAL SNOW FELL IN EUREKA
And Young and Old Indulged in a Snowball Frolic - Windows Broken
"The light snow-fall which occasionally finds its way down into Eureka of a winter, came along rather earlier than usual this year and Sunday morning the people of the city were somewhat surprised to find nearly an inch of "the beautiful" on roofs and streets. The day was raw and cold and the white carpet remained longer than usual but by noon it had nearly all disappeared. As usual young and old indulged in old-fashioned snowballing pranks, and as a result a number of windows about town were broken as also were several in the street cars which became the especial target for the youngsters"
Serendipity again when I shared my Eureka! moment with researcher (and veteran post card collector) Anne Hunt, who was also reading newspapers on microfiche at the library that day. She told me of a photo card she has of a snow man at the court house...