St. Joseph Hospital showed off its new, three-story, 100,000-square-foot Northeast Tower today, a sleek, spacious, modern space decked in the latest medical equipement, soft colors schemes and muted light -- except for the operating rooms, of course. In one of them, under the bright bright light, an excited nurse demonstrated the ease with which the many-armed contraption in its center could be manipulated to bring whatever you need within reach.
Work stations and lobbies, with droplet ceiling lights and softly glowing counter features, feel like tasteful coffeehouse lounges. The requisite comforting nature scenes adorn the walls in waiting rooms and halls (autumnal pastorals for the consultation rooms) and the ceilings where patients will be awake and staring upward.
In the cardiac operating room, a beaming older man told a tour-guide nurse that he was the first patient in the original wing of the hospital, back when it opened in 1954. "Tonsilectomy."
St. Joe's built the new tower, which will open for patient care in April, to meet new seismic standards. It cost $145 million to build and equip -- paid for, says a flier, with loans, net income, reserves, donations and a dollar-for-dollar match by St. Joseph Health System for the first $12.5 million raised.
The stats: 17 pre-op beds; 10 post-anaesthesia care unit beds; eight operating rooms and a catheterization lab; 12 ICU beds; 40 progressive care unit beds; a sterile processing room (its features and functions enthusiastically described by an employee on the tour); X-ray, Ultrasound and CT units and a 20-bed emergency room.
More pics: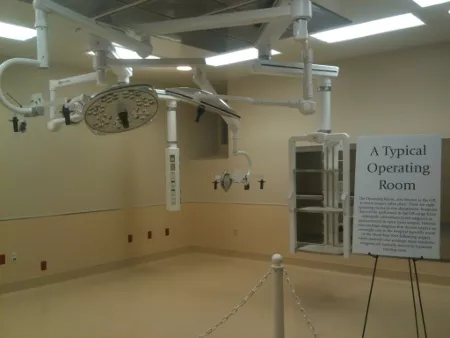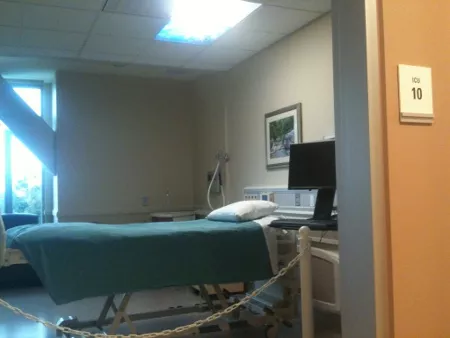 Photos by Ken Malcomson.