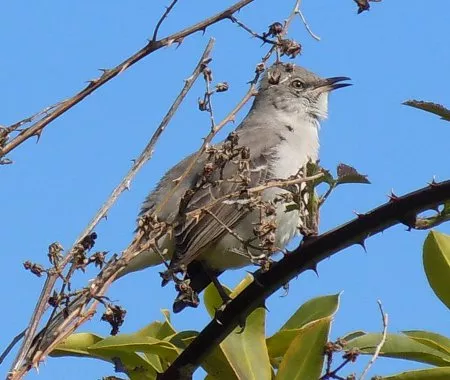 OK, if you're really good at this gig, you were up before dawn, shivering on the back porch in your Life is good® flannel jammies, listening for peeps in the dark. Or warm-up squawks...
"Hm, yes, Zonotrichia leucophrys, I believe I expected you," you muttered into the darkness. Damned sparrow had carried on all night. "Oooh, pine siskin, is that you passing through? Stop, stop!"
"Probably just a shopping cart, honey," your mate answered, rubbing sleep from his eyes. (Someone, put some sugar in his coffee.) "Or your asthma's flaring up!" He almost choked on his own funny. (Add arsenic.)
Chorrrrrtttlle, said the raven on the power pole.
But if you have no clue what we're talking about: It's The Great Backyard Bird Count. It started today, Feb. 17, and runs through Feb. 20. What is it? Say the bird people, it's:
"an event that engages bird watchers of all ages in counting birds to create a real-time snapshot of where the birds are across the continent. Anyone can participate, from beginning bird watchers to experts. It takes as little as 15 minutes on one day, or you can count for as long as you like each day of the event. It's free, fun, and easy -- and it helps the birds."
That's pretty much it. To learn how to do it, bone up on some bird stuff and grab a regional bird checklist to fill out, go to the GBBC site. Remember, your data entries are due March 5!
Now hop to it, Foghorn! (Er, that might not be the most helpful link.)