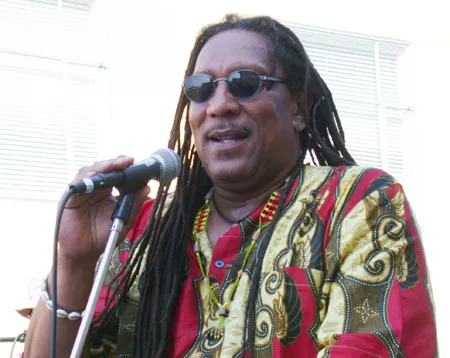 Kala Kenyatte, a big man, and a fixture on the Humboldt music scene, died Thursday morning at around 3 a.m. at Mad River Hospital due to renal and congestive heart failure, the result of ongoing health problems related to diabetes.
Born George Allen Dixon on Oct. 16, 1946 in Westchester, Virginia, Kala was active in sports, football, basketball, and baseball in high school and junior high. In later years he played with the Blue Lake Yacht Club in the local beer league.
He joined the Air Force after high school and was stationed in Ventura, fulfilling a dream to live in California, "where it's always sunny." Post military he found work assisting developmentally disabled adults, who he saw as "his kids."
He had a lifelong love of music. In a 2003 interview with the Journal he said he "grew up with gospel and blues. Ever since I was a kid it was gospel. To make a long story short, when I came to California, I was playing blues and rock 'n' roll, then around 1975 things went haywire for me: a lot of drugs and lot of craziness. I was living in this haze.
"Then I found reggae; it was my new gospel. I've been playing it since around 1980. I quit drugs, grew my dreadlocks and got into the music. ... I'd say up until the day I started growing my dreadlocks, there was something missing. I've learned so much since then about my heritage and my culture."
When he moved to Humboldt in 1985, he returned to his blues roots, playing with Buddy Brown, Teddy Taylor and others in the Jambalaya blues jam crowd.
In 1987 he assembled his first reggae band, The World Peace Band with Teddy Taylor, Jim Stuttsman, Albert Raymond, Rick Bend, Jodie Montgomery and Madi Simmons among others. He had other combos over the years with breaks due to health problems. He said he'd had several heart attacks.
His friend Calvin Hall visited him in the hospital this week. Hall said music was still on his mind. "When I went to see him Tuesday night the foremost thing on his mind was, 'Are we going to put another band together?'"
The last lineup of musicians he played with was known as Kala Kenyatte and the Sound of Truth with the Horns of Justice.
"We try to keep the spirituality that's true to the reggae form," he said. "And when we do covers, I try to choose songs that have some kind of message."
Not that he took it too seriously. One of that band's crowd pleasers was something they called "Babylon Revisited," a reggae version of "Stayin' Alive" the theme song to the John Travolta disco movie Saturday Night Fever. The adaptation was Kala's idea. "I changed the words around to reflect what a Rasta would say," he explained. "You can tell by the way I use my walk I'm a Rastaman, no idle talk. Music hard, woman soft, been Babylon kicked since I was born. But it's alright, it's OK, you can look the other way. You can try to overstand Babylon's effects on man. Reggae music crashin'; dreadlocks dem a flashin'. Stayin' alive, stayin' alive. Babylon quakin'; baldheads dem a shakin'. Stayin' alive; stayin' alive.'"
George "Kala Kenyatte" Dixon leaves behind six children: Deric and Allen Dixon, Kahle and Adia Morris, Danielle Thrasher and Christina Luttrull, who met her father for the first time shortly before his death after finding him via Facebook.
A local celebration of his life is set for for Thursday, March 15, at the Jambalaya in Arcata starting at 9 p.m. Host Madi Simmons will sing with the reggae band The Mighty Redwood Ambasadors; he's hoping some of Kala's former blue jam compadres will play too. One thing for certain, stories will be told about the big man who's gone.