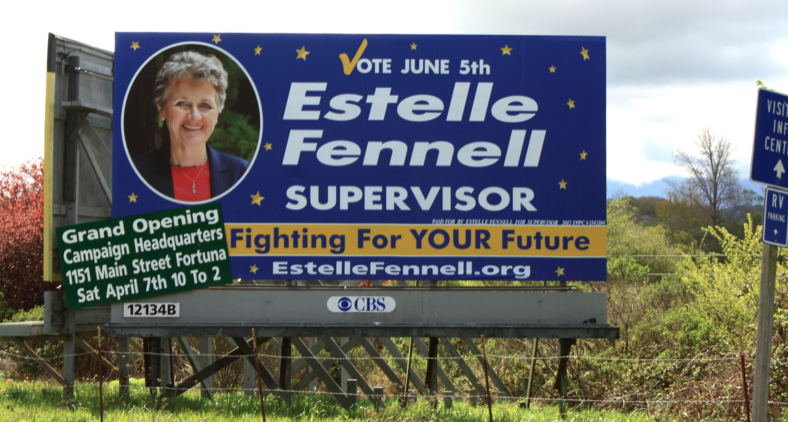 It seems like a simple thing to label an advertisement as political or not. There's the message -- on a political sign it usually goes something like, "Elect so-and-so for whatever." Then there's the color scheme -- red, white, and blue seem to show up a lot. Last, take a look at the image on the sign -- is it some politician's smiling mug?

Just how political that approach is -- or isn't -- is a subject of a debate in Fortuna, where a sign promoting 2
nd
District supervisorial candidate Estelle Fennell has prompted complaints to the city manager's office. If the blue and white billboard, which sports a picture of grinning Fennell, is indeed political in nature, then it violates Fortuna ordinances regarding both the size and timing of political signs. The sign says, "Vote June 5 Estelle Fennell SUPERVISOR-Fighting For YOUR Future, Paid for by Estelle Fennell for Supervisor."

Fortuna Municipal Code § 17.05.180(D)(b) reads,
One political campaign sign not exceeding four square feet in area or four feet in height is permitted on private property. These signs shall be removed within 10 days after the election. Such signs shall not be erected prior to 30 days before the election.

"It looks and walks like a political sign, so therefore the city's position is that it must be a political sign," said City Manager Duane Rigge. He said that the sign has been up for at least three weeks -- far in advance of the one-month rule. Following a consultation with the city attorney, Rigge sent Fennell a cease-and-desist letter, also requesting that she take down smaller signs posted in a downtown storefront.
As of Saturday however, the billboard remained, Rigge said. He's unsure how the city will deal with it. "We were hoping she would come forward and do something about it," he said.
But Fennell isn't ready to concede the point. "It's not a political sign; it's an ad," Fennell said in an interview. "We consider the issue resolved." Despite the ordinance, she invited her opponent to respond with his own sign. "Clif [Clendenen] is free to put up a billboard too, in our view," she said.
Here's the text of the city's letter:
Dear Ms. Fennell,

Thank you for responding to the city's concerns regarding campaign signs that are posted prior to the time stipulated in the Municipal Code § 17.05.180(D)(b), and removing campaign signs prematurely posted in the window of a business on Main Street.

The same ordinance section limits the size of campaign signs (i.e. signs that advertise a candidate who is running for office) to not greater than four-square feet or four-feet in height. This applies equally to signs mounted on private commercial property, banners hung on a building's exterior, or glued onto a roadside billboard. In all cases, a political campaign sign permit (no charge) is required to identify the proposed location for approval by city staff. The posting of all such signs is limited to a window of time beginning 30 days before an election.

All candidates are requested to abide by the same set of fair-play regulations during a time of potentially heated emotions. Any provocation viewed as taking advantage of the prescribed rules can initiate intense discussion within the community.

As you noted, letters to the editor endorsing candidates are not regulated by the city. Nor are radio spots promoting a candidate. However, signs that encourage people to vote for a candidate are regulated by each local jurisdiction.The regulations are not uniform from community to community but each jurisdiction does provide a regulatory environment for political signs. It makes no difference whether you pay someone to post or mount a sign or are provided space free of charge. Nearly all campaign signs are paid for [by] the candidate or by a committee to elect a candidate.

In the spirit of civic mindedness and fair play, the city is requesting that you and all political candidates conduct your campaign within the established guidelines. Your attention to this matter in a timely fashion will be most appreciated,

Sincerely,

Duane V. Rigge

City Manager