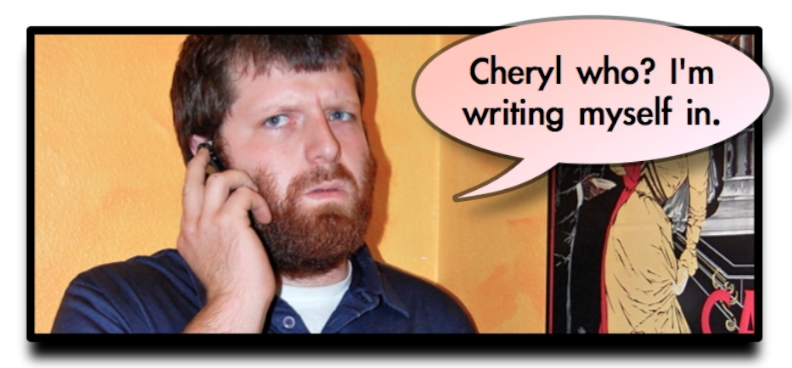 PART 1:
Late last month, Claire Josefine got a phone call from an anonymous pollster. The woman asked Josefine to rank a list of issues (education, the environment, jobs, etc.) from most to least important and then asked who she intends to vote for in the 1st Supervisorial District, where Josefine lives.
Recalling the phone conversation earlier this week, Josefine said she told the woman that she'll be voting for Cheryl Seidner. Asked if she had a second choice Josefine said, "No," and the woman, sounding enthused, responded, "OK, great! Can I tell Cheryl?" Josefine recalled.
"I thought that was weird," Josefine said. The pollster also reportedly asked if Josefine would like a Seidner lawn sign, which also seemed odd because Josefine has been volunteering for the Seidner campaign and she'd heard nothing about phone polls. After hanging up with the pollster, Josefine called a campaign organizer who confirmed that, sure enough, nobody with the Seidner campaign was conducting any polling.
Over the next few weeks, the Seidner campaign received a number of calls from confused 1st District residents saying that they, too, had received polling calls. Former State Assemblymember Patty Berg -- who lives in the 1st -- was called twice, and the script, as recalled to the
Journal
, was nearly identical.
"He asked if I'd be willing to put up a yard sign," Berg remembered. "I said, 'I already have two.' He asked if I'd be willing to assist her [Seidner]. I said, 'I already am.'"
Just who is conducting the poll? Good question. (Thank you.) The other two candidates in the race -- Rex Bohn and Annette de Modina -- say they know nothing about it. Josefine said her caller I.D. registered a Eureka phone number under the name "Campaign Comm." When the Journal called the number, a woman answered and said it was a private residence and an unlisted number. Worried we may have misdialed or written down the wrong number, we double-checked with our sources and called again. This time there was no answer. We've called six times since, on two different phones, and each time it just rings and rings.
Anyone else out there gotten one of these calls? Let us know.
PART 2:
The few internal campaign polls that have been released in the 2nd District U.S. Congressional race all have one thing in common: Jared Huffman is in the lead. Aside from that, they're all over the place. Here are the results of a much-cited poll leaked by Huffman's own campaign earlier this month: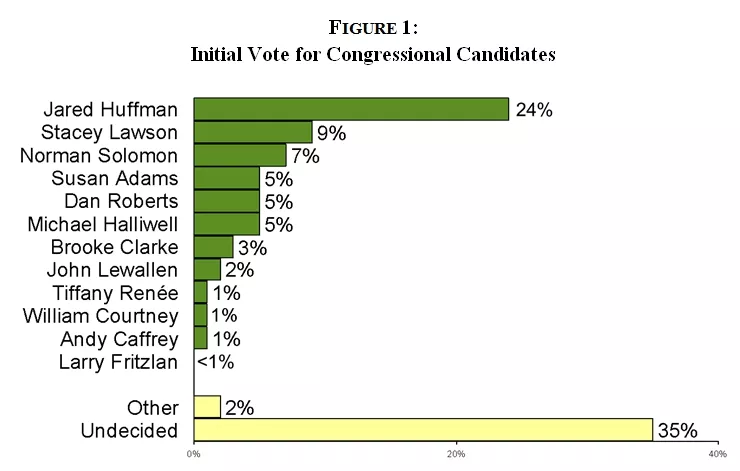 Notice Stacey Lawson's position in second place. This poll was conducted by Fairbank, Maslin, Maullin, Metz & Associates, a California-based firm with offices in Oakland and Santa Monica. According to the Huffman campaign the methodology involved 500 telephone interviews with registered district voters "who are likely to cast ballots in the June 2012 primary election." The interviews were conducted from March 23-29, and the results have an eyebrow-raising margin of error of +/- 4.9 percent.
Compare that with a poll released by Norman Solomon's campaign yesterday, showing the North Bay activist in second place. The poll, conducted by Lake Research Partners, found that nearly half (47 percent) of primary voters were still undecided. The rest of the results were as follows:
State Assemblymember Jared Huffman currently leads with 18%, followed by Solomon with 10% of the vote, then [Marin] County Supervisor Susan Adams (8%), and small businesswoman Stacey Lawson in fourth place (5%). The remaining candidates, including both Republicans, all receive 3% or less.
Like Huffman's poll, the findings were based on 500 phone interviews with a random sample of likely 2012 primary election voters. These interviews were conducted April 17-19 and have a similar margin of error (+/- 4.4 percent). According to a press release, the poll's methodology was meant to simulate the voting booth:
The candidates were read in the order they will appear on the ballot, along with their ballot labels and party preference. Respondents were given no information on any of the candidates before the ballot question was read.
Now let's look at a poll released by Earth First! organizer and Humboldt County resident Andy Caffrey (click on it to view full-size):
Again, there's Huffman up top (with 23 percent), but below that things get weird. For one thing, Caffrey's poll places him in a close fourth place, with 8 percent support. Both of the other polls give him less than 3 percent. Straining credulity even further is where he puts mega-fundraising-contender Stacey Lawson: 1 percent -- and nowhere in the last seven months has she surpassed 2 percent, according to Caffrey's poll. He sent a press release along with the poll, which said in part:
There are only four people in this race now, Jared Huffman, Susan Adams, Norman Solomon, and Andy Caffrey. Lawson with her $800,000 campaign and her 1% is being crushed by my $10,000 Internet and grassroots organizing campaign which has produced 8% support for me.
We contacted Caffrey to ask about the methodology of his poll. He responded via email that he hires a consulting firm in Illinois called Triumph Political, and that Triumph contracts out the actual polling to a third-party company.
"I do not know anything about that firm and have no contact with it," Caffrey said. A brief Google search returned no results for an Illinois firm called Triumph Political. Yesterday morning we sent a follow-up email to Caffrey asking for more details. He has yet to respond.
A while back he did respond to the Journal's March 15 cover story on the Congressional race, taking to the Interwebs where he unleashed a potent mix of contortionist logic, suspect data and wishful thinking to argue (at great length) that "Andy Caffrey [is] running neck-and-neck with and beating millionaires in this race."
Evidently our lack of respect for his powerhouse campaign hasn't hurt his chances. Today on Facebook Caffrey boasted, "I've done the calculations: I only need $5,000 more to win the primary election!"
Where will he get that money? He hints at a source: "There's a lot of pot money up here," he says (WHAT?!), "and I've only received a couple hundred dollars of that."
Oh, snap, growers. Andy Caffrey just called you out! Time to pony up.