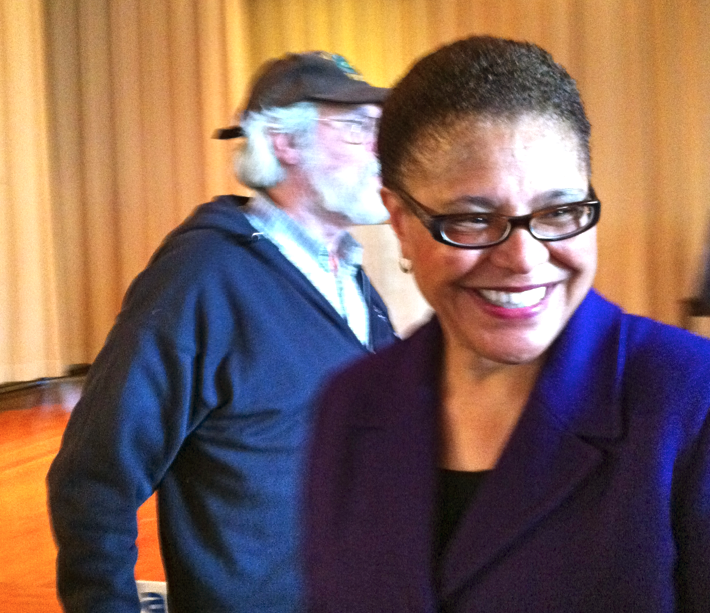 "White guy, white guy, white guy, white guy, white guy, white guy, white guy, … Karen Bass."
That was Assemblymember Wes Chesbro describing the gallery of Assembly Speaker portraits at the state Capitol to an adoring group of Dems-supporting-Jared Huffman. He introduced her as the keynote speaker at a Friday luncheon at the Eureka Women's Club. (OK, so he forgot about Willie Brown.)
Bass -- who served alongside former Assembly member Patty Berg, host of the event, as well as Huffman in Sacramento -- went on to become a member of Congress in the infamous incoming freshman Class of 2010. She did not disappoint the crowd with partisan tales.
"We had 87 new Republican members -- 60 of them were in the Tea Party – and nine Democrats. They [Tea Party members] were basically protestors and woke up one day and had to make a transition from protesting to governing."
"On that first day," she said, one Tea Partier was incensed to learn that his health care benefits wouldn't start until a month later. Another initially refused insurance, vowing to repeal and replace "Obamacare," but changed his mind later when his child became ill. Also on Day 1, Tea Partiers vowed to read the Constitution aloud every day in session. Bass said, "Which one? The one where women can't vote and blacks are subhuman?" They soon abandoned the effort.
Recollecting her first year in Congress, she read from a long list of attempts by her new colleagues to defund all women's health services for contraception and abortion, including one failed bill that would have made it illegal for hospitals to perform abortions even to save a woman's life.
"Now it's one and a half years later and what have they done? … I feel sorry for [House Speaker] John Boehner. He can't get his own bills passed," Bass said.
Huffman, who spoke later, is one of 11 eight Democrats, one two Republicans and two independents running to represent the 2st District in the U.S. Congress. The event was one of many for candidates this weekend in Humboldt. The race is heating up with just 30 days to election time. According to new primary rules, only the top two candidates, Democrat or Republican, will advance to the run-off in November.