Guest post from Mark Dondero of Orleans, the land of abandoned dogs:
This is an open letter to whoever abandoned a German shorthair pointer named Toby in Orleans, Calif., on St. Patrick's Day, 2005.
Your dog is dead. Actually, once you kicked him out of your car and he found his way to our house, he became our dog. He had a red collar with a piece of foil tucked under it. Inside the foil was this note on a piece of yellow steno notepad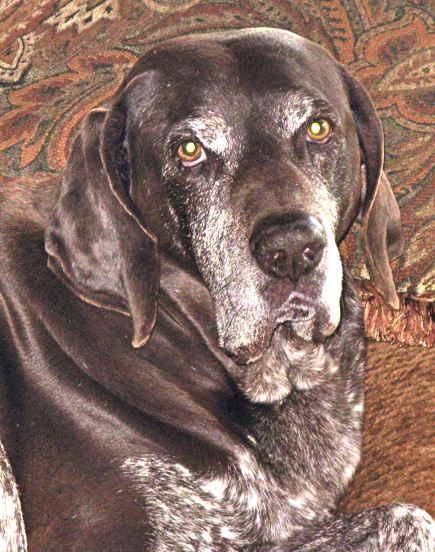 paper:
HI MY

NAME

I TOBY

I cAn't live in the

city Anymore. Im A

good dog, I don't cHAse cAts

I get Along good with

kids & oTher dogs unless

They sTArT something.

I Like to chAse sticks

& dirt clods.

That was all true. He was a good dog. He had a great time swimming after sticks I'd throw into the Klamath River for him. He loved to go on walks, run, dig after rodents in the field, ride in the back of the truck with his ears flapping in the wind, camp, eat biscuits, be petted. Our neighbor kid loved him. He didn't like the meter reader or the propane delivery guy, but he loved Bob from Renner Petroleum whenever he delivered kerosene for our heater. He was a great watchdog and barked at everything and everyone.
He was lively and playful right until Mother's Day this year when he was very lethargic and wouldn't eat. I took him to the vet the following day and an X-ray showed his lungs were full of tumors. We tried a course of antibiotics and diuretics, but by last Wednesday (May 16) it was obvious he wasn't getting any better, so I called the vet and told him come prepared to give Toby the spike when he was in Orleans the following day.
Toby, always considerate, saved us all the trouble by having a seizure Wednesday night. He fell over on the living room floor, kicked his legs a few times and died. We buried him the following day on our property under the shade of a big leaf maple tree, close to his friends, the Airedale and the border collie mix.
He will be missed.