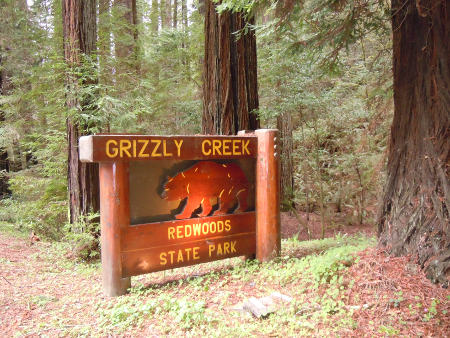 Whooooo-wheee!
Grease up the Dutch oven, knock the mold off the tent, gather up the kids and haul your camping-starved selves over to Grizzly Creek Redwoods State Park. It's been closed since May 1 because of the state's budget fiasco. It will reopen in time for this Memorial Day weekend.
Moments ago, the Humboldt County Board of Supervisors approved an operating agreement with the California Department of Parks and Recreation that will keep the park open for a year. After that, who knows? Maybe the state legislature will have arrived at a neat solution. Maybe an asteroid will hit the lovely spot and make other options moot. Maybe the county will decide to run it another year.
Under the agreement, county public works staff-- in particular, the resident park tender at the county's nearby parks (Swimmer's Delight and Pamplin Grove) - will oversee the park; Sheriff's deputies will patrol; state parks staff will manage hazard trees, regulatory issues and the water system; and the nonprofit Save the Redwoods League will kick in some funds - up to $60,000. You, dear picnickers and campers, will also contribute: by loving the place, visiting it and paying the day use and camping fees.
Those fees, by the way, will initially remain at the state level: $5 for day use and $35 per night/per vehicle campsite fee. Instead of using the online reservation system the state uses, the county will allow campers in on a first-come, first-served basis. The camping fees might drop - the board will hold a public hearing in the near future to discuss lowering the camping fees to $25. As County Counsel Wendy Chaitin explained, the board can't introduce a new county park fee without a hearing, so until then they could charge the existing state park fee or ask for donations. Public Works Director Tom Mattson said his department couldn't afford to rely on donations.
For more on the park closures and efforts to keep our local state parks open, you can read the Journal's coverage here.
Now go enjoy that 1940s vibe of the charming peaked-roof visitors center and the ancient thrill of virgin redwoods. And the Van Duzen River, of course.