UPDATE: You can record marine debris you suspect is from the Japan tsunami with the mobile device Marine Debris Tracker. Use your discretion, NOAA requests -- don't report everything in sight, only stuff that seems very probably from the event.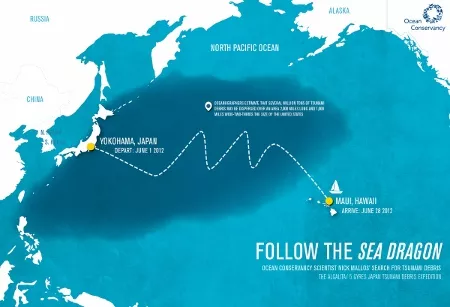 While we here on land, including on Humboldt's coastline, await with dread and curiosity the coming of the debris from the March 2011 Japan tsunami, a team of scientists is about to set sail aboard the Sea Dragon to get a close-up look at the debris as it floats in the ocean. It'll be the first physical accounting of the floating debris -- up till now, scientists have modeled the likely path of the debris based on past wind and ocean current patterns.
The Algalita/5 Gyres Japan Tsunami Debris Expedition leaves this Thursday, weather permitting (it was set to leave Japan on June 2 (June 1 here in North America), but was delayed by a storm). On board is Nick Mallos, a conservation biologist and marine debris specialist with the Ocean Conservancy. Mallos, whom the Journal interviewed by email last week, is a member of the Ocean Conservancy's Trash Free Seas program. He has already spent considerable time examining garbage patches in the ocean, as well as on land helping sort through the tragic mess left behind by the tsunami.
In this latest expedition, Mallos and crew hope to get a clearer idea of where the debris is and how it is dispersed. Mallos is blogging about the expedition for National Geographic. And you can follow him on Twitter (@NickMallos). His most recent entry is an Instagram photo of an oblong, hard, white blob:
"Although a melted #plastic bottle may look like an oyster, you should not eat it."
The models predict that the tsunami debris is spread over an area 2,000 miles long and 1,000 miles wide. Most of it won't come ashore, Mallos said.
"One of the biggest issues is what's going to stay in the ocean. Scientists have estimated that 95 percent or more of the tsunami debris that is in the ocean will stay there. The debris is joining the trash that's already in our ocean, which is hazardous to both wildlife and ecosystems, as well as the economies that rely on clean, tourist-friendly beaches."
And while the tsunami debris was unpreventable -- the result of a natural disaster -- all of that other garbage is preventable. Eliminate that stuff, Mallos says, and the ocean will be more resilient and able to handle the unpreventable stuff.