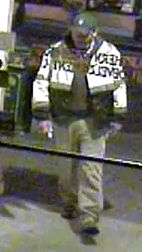 Hey, Humboldt! Do you recognize this sticky character?
This security camera footage from 4:55 a.m. on June 9 allegedly shows a ball-capped fellow squeezing glue into a door lock in Old Town's Carson Block Building ... which, if true, way sucks.
Help us bring his reign of adhesive terror to an end! Again, WHO IS THIS?
Shocking video below: