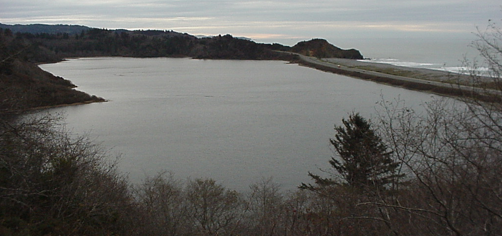 Ick. Blech. And oh, no: Somebody dumped a big load of crap into Freshwater Lagoon and now the park service has closed the boat launch.
A visitor to the lagoon discovered the mess on the south end of the lagoon by the boat ramp on June 27 and reported it to officials at Redwood National and State Park's Kuchel Visitors Center. Park employees put up closure signs immediately, said Dave Roemer, the park's Chief of Resources Management and Science, on the phone Friday morning. Roemer also sent out a news release today. He said the sewage apparently came from either an RV or a chemical toilet on a boat -- it's hard to tell.
"It's an illegal dump," he said. "A 'dump and run.' The water's pretty nasty, smells like sewage, and it's got green algal blooms."
Nobody saw it happen, and the park service doesn't know the volume dumped. Park rangers are investigating, although it's doubtful they'll be able to figure out who the culprits are, Roemer said.
"Unless somebody calls and reports somebody, we don't have much to go on," he said. "It would be great if someone was on the water and saw it."
Yeah -- and it'd be great if the moment they saw such a dastardly deed happen, they had gone over there and dunked those jerks in their own mess. (We said that, not Roemer.)
Roemer said the park service doesn't know when it will re-open the boat launch. He said folks from Humboldt County's environmental division said that eventually the material will break down in the lagoon and disappear. The park service doesn't do water quality testing at Freshwater Lagoon -- it's not exactly pristine, anyway, because it's cut off from the ocean by the highway and much of it is privately owned.
"It's going to be visual and olfactory cues that tell us when to re-open the lagoon boat launch," Roemer said.