Sure has changed since I wrote about the Second Street landmark here in March, 2010. Kurt and Kim Kramer showed off the results of 28 months of work, including a major seismic retrofit, at their "soft opening" this morning. The first tenants will probably be up and running in September, including The Siren's Song Tavern and the Alternative Building Center. (The Tavern's Phyllis Barba shared with the Journal last month some details about the new watering hole.)
In brief: Healy Bros. Building was built by John and Peter Healy, sons of Irish immigrants, who were raised on a dairy farm in Loleta. The original wood structure, which housed their hardware business, was destroyed by fire in 1908. The brothers then contracted Knowles Evans to build a three-story 60' x 110' brick building, to be completed in 75 days at a cost of $9,740.
Since then, the building has housed a men's clothing store, bicycle manufacturer, liquor distributor, cigar shop, roller rink, dance hall, Lazio's Restaurant and, most recently, Old Town Bar and Grill.
The City of Eureka was about to schedule the building for demolition following the collapse of part of the east parapet in the January 9, 2010 magnitude 6.5 earthquake when the Kramer's bought it.
The right side of the ground floor is where Siren's Song Tavern will be...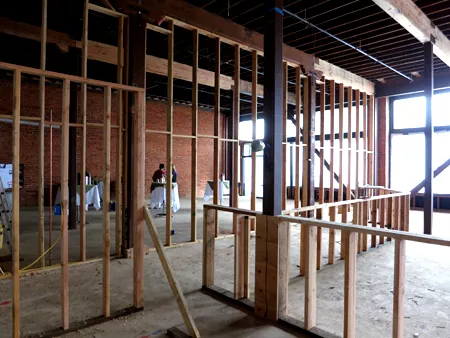 ...and here's Kurt and Kim Kramer, looking pretty happy with their project.
Old Town Eureka: still alive and kicking!
Other local happenings: About that Big Ass Boat in Humboldt Bay ...