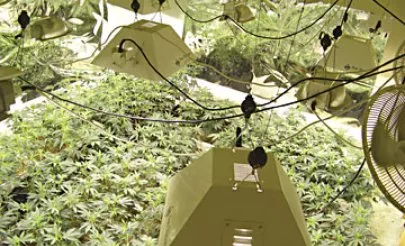 What do Lynne Woolsey, Ron Paul and Barney Frank have in common? Okay, yes, they're all U.S. Congress members (for a few more months, anyway). But more to the point, they're part of a bipartisan group of lawmakers co-sponsoring
a bill
that would give valid medical marijuana patients extra cover from federal prosecution.
[Update 4:35 p.m.: As if we didn't have enough local relevance, the feds (including the Department of Homeland Security) have been conducting a series of raids across the county today.]
The Truth In Trials Act would allow medical marijuana patients to use compliance with state laws as an "affirmative defense" in court:
Any person facing prosecution or a proceeding for any marijuana-related offense under any Federal law shall have the right to introduce evidence demonstrating that the marijuana-related activities for which the person stands accused were performed in compliance with State law regarding the medical use of marijuana, or that the property which is subject to a proceeding was possessed in compliance with State law regarding the medical use of marijuana.
The bill reads like a declaration of states' rights at a time when federal prosecutors are Hulk-smashing dispensaries left and right, sparking criticism from state and local officials, industry groups, journalists and likely voters.
Northern California U.S. Attorney Melinda Haag has been perhaps the most defiantly aggressive pot prosecutor, going after some of the most reputable dispensaries in the state and penning implied threats of prosecutions to local officials.
When Haag's office busted Oakland's Harborside Health Center earlier this month, it wasn't because the dispensary had broken any laws -- she just thought it was just too big. She justified her office's asset forfeiture proceeding with this statement, which explains:
The larger the operation, the greater the likelihood that there will be abuse of the state's medical marijuana laws, and marijuana in the hands of individuals who do not have a demonstrated medical need.
Haag has threatened to seize the Oakland property where the dispensary operates, along with its sister shop in San Jose. The Truth In Trials Act would make such actions more difficult. It has a provision that reads:
Any property seized in connection with a prosecution or proceeding to which this section applies ... shall be returned to the owner not later than 10 days after the court finds the defense is valid, minus such material necessarily destroyed for testing purposes.
The bill, introduced yesterday, is sponsored by Rep. Sam Farr, a Democrat whose 17th Congressional District includes Salinas and Santa Cruz.