When Cuban-American rapper Armando Cristian Pérez, aka Pitbull, makes a rare appearance at a Walmart in Kodiak, Alaska on Monday, former Humboldt resident David Thorpe will be along for the ride. In fact Thorpe is personally responsible for sending the rapper to what he figured was the most remote Walmart in the United States.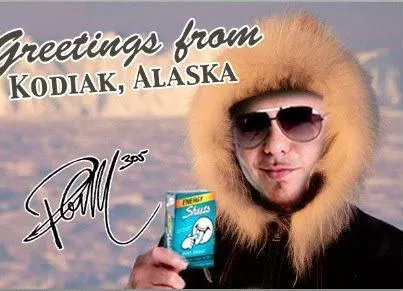 In his "Big Hurt" column for the alt. weekly Boston Phoenix, Thorpe reported on a promotional effort in which, as Thorpe put it, "High-integrity Zumbacore sensation Pitbull is the filling of another fully non-absurd promo sandwich: big-box shopping, Latin club anthems, and tongue-dissolvable caffeine strips." To be specific Walmart and Energy Sheets® caffeine strips promised to send the rapper to whatever Walmart gets the most "likes" on Facebook.
Using his Twitter account, Thorpe "started a campaign to exile Pitbull to the Walmart on Kodiak Island, an icy, bear-infested locale just south of Alaska." Gawker picked up the story as did the Associated Press and #ExilePitbull went viral. The Kodiak Walmart ended up with well over 66,000 likes (the town has around 6,000 residents) and won the contest. At that point Pitbull invited "that someone who thinks it's a joke" (Thorpe) to join him in Kodiak.
Challenge accepted -- Thorpe is on his way to Kodiak (on Pitbull's dime).
The rapper seems to be taking the whole exile thing in stride. The fact is, the promotion was a success: a lot of people who'd never heard of Energy Sheets are now aware of the product.
And Pitbull is unabashed when it comes to using his fame to sell products. As reported in a recent profile in GQ, "Along with Kodak, Bud Light, and Voli [vodka], Pit endorses Dr. Pepper and Zumba Fitness, which builds workout programs around his music. He also has equity in these dissolvable tongue squares called Sheets Energy Strips. Last year he made a reported $6 million this way, being hip hop's foremost shill."
The story goes on to quote the rapper known as Mr. Worldwide saying, "Look, Pitbull is a product. Don't get it fucked up -- I'm a businessman. This industry is 90 percent business, 10 percent talent. It's the people who think they're talented, that their shit don't stink, who get left behind. ... Two thousand nine was freedom, 2010 was invasion, 2011 was takeover, 2012 is grow wealth."