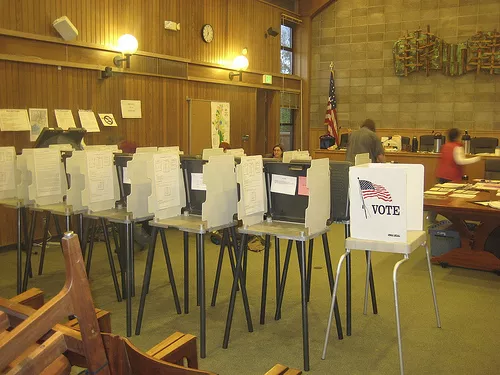 Journal intern Scottie Lee Meyers submits this report:
Arcata residents Jolian Kangas, Valerie Rose-Campbell and Mark Sailors all attempted to run for city council, but according to the city clerk's office (and as first reported by Kevin Hoover of The Arcata Eye), none of the three challengers managed to collect 20 signatures from Arcata voters and have thus failed to qualify for inclusion on the November ballot.
The seats up for grabs are currently held by Mayor Michael Winkler, Vice Mayor Shane Brinton and Councilwoman Susan Ornelas, all of whom will be on the ballot.
Deputy City Clerk Bridget Dory said potential candidates must provide at least 20 signatures of registered Arcata voters but cannot submit more than 30. Signatures are disqualified if they don't belong to registered Arcata voters or have non-valid addresses.
The city's signature requirement is less rigorous than even HSU's student government threshold. Students there must gather 50 valid signatures to run for council positions with Associated Students. To run for AS president, candidates must submit 150 signatures.
Arcata city council candidates had almost a month to gather signatures and had the option to file them a day early -- before the Friday 5 p.m. deadline -- to make sure their signatures checked-out. If errors came up, candidates would have had the opportunity to fix them. All three incumbents filed early while none of the challengers did so, according to Dory.
Of the 27 signatures Kangas supplied, only 11 were valid. Rose-Campbell had 16 of 30 signatures verified. And only 15 of Sailors 26 signatures checked out. The three non-incumbents can still run as write-in candidates but must fulfill the same 20-signature requirement. The paperwork for write-in candidates must be filed between Sept. 10 and Oct. 23.
Sailors learned of his disqualification this morning by phone. The 41-year-old owner of Kineticab, a bicycle taxi company, couldn't believe that all three challengers failed to qualify. "This whole thing smells fishy, as fishy as a fish processing plant," he said. "This is small town politics at play."
He said he asked every single signee if he or she was registered to vote in Arcata. "I can see one or two of them might not have been bright enough to understand," he said, adding that having 11 disqualified didn't seem right. He's unsure whether he'll continue his campaign as a write-in candidate.
Campbell-Rose said she'll forge ahead in her bid for a council seat. She said she's pushing for support on her Facebook page and will canvass in the community.
Meanwhile, in Eureka, two council seats are up for grabs. In the 4th ward, Melinda Ciarabellini will run unopposed. When Frank Jager won his mayoral election in 2011, he appointed Ciarabellini to fill his position on the council. In the 2nd Ward, Joe Bonino, a payroll technician at HSU, will challenge incumbent Linda Atkins.