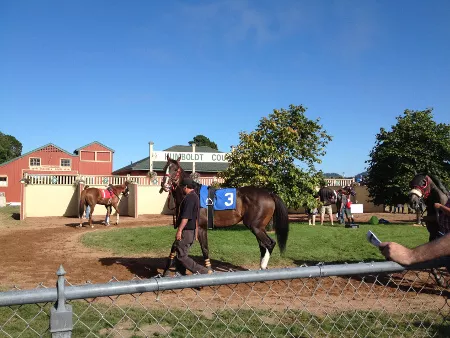 The young man watched the horses parade around the corral near the race track just before one of last Saturday's races. His gaze lingering on Western Roses (No. 3), a curious, rolly-eyed steed with tongue perpetually stuck far out and to the right like a manic comic pushing to squeeze every last laugh out of its audience. Lookiloos, wandering up to stare a few seconds, noticed the tongue, laughed and said, why's his tongue hanging out? Beats me, the uninformed among us answered.
Was it funny? Was it sad or bad?
The trainer leading W.R. seemed to think it embarrassing, at least, as he kept trying to stuff the horse's tongue back inside his mouth. W.R. wasn't having it, and back out came the tongue. Cloppety clop clop.
The young man looked down at his racing form and made a note.
"You're betting on No. 3?" a stranger beside him asked.
"I think I might," said the young man.
"You're not bothered by the tongue?" the stranger asked.
"No, I always look for a horse that shows me something different."
And soon they were off -- the horses, that is, shooting from the gate and trampling down the groomed, wetted track. The crowd in the stands and the crowd on the grass roared and cheered in bet-fueled excitement.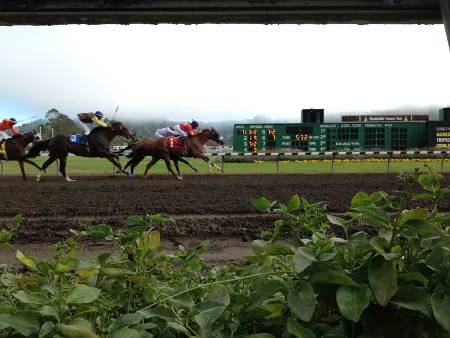 Western Roses came in third. Maybe that mattered to the "something different" fellow. But the race grounds seemed filled with happy devil-may-careness. Lots of people with a stake on a pony or a jockey. Lots of people with a simple stake in having a good time. After the last race, some of them planned to saunter back out into the main fairgrounds to get a funnel cake drenched in strawberry and chocolate, then a beer, then a corn dog, eye the healthful vegetarian stall ruefully, go inside to pet the goats and talk to the cows and scratch a hog's belly then check out the collections and quilts and bizarro dollhouses, then wander back out into the foggy light for some of those beer-battered fries and, after a decent minute or two, an espresso.
The last days of the 116th Humboldt County Fair are upon us. You have several more chances to test your horse sense (or nonsense): Races start today (Wednesday), Saturday and Sunday at 2:07 p.m., and Friday at 3:07 p.m. Today's and Friday's race admission are free to all, and on Saturday ladies sporting a formal, fancy hat get in free.
There are no races on Thursday. However, admission to the fair itself is free on Thursday, and there's lots of other stuff to do (oink oink).