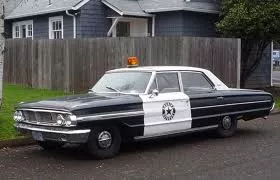 Well, this is embarrassing: Apparently I've been sitting on a humongous color-scheme-change scoop. Over at the Lost Coast Outpost there's a contest to guess -- or, rather, suggest -- the Sheriff's new colors for his cruisers, which will be revealed all nice and proper tomorrow in a press conference, according to a news release posted on LoCO and sitting in my inbox.
Press conference! Will there be angrily shouted questions? Disorder? Dismay? Outrage?
Depends on if you have a fear of traditional paint jobs. They're not gonna be green and white anymore, at least not the new Ford Crown Victorias that Sheriff Mike Downey told me about in July. The Crown Vic has been discontinued as a police cruiser, and some departments are shedding their surplus -- even brand new ones, like the seven Downey just got from the Anaheim Police Department, apparently for a steal.
And those babies are ... black ... and ... white! So, yeah, just like the CHP's -- and others'.
"Los Angeles County, San Diego, Sacramento County -- they all run black and whites," said Downey.
Fortuna's going that route, too, fading out the good ol' red-and-whites.
Why? WHY??
"It'll cut down on graphics costs," Downey said. The black-and-white scheme's cheaper to repair than that finicky green decal.
As for the current green-and-whites in the stable, each will be phased out as it hits the 120,000-mile mark on the odomoter that signals it's time to be put to pasture.