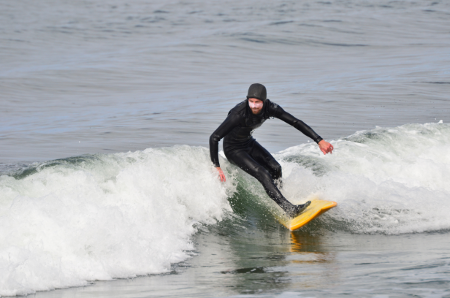 Wait, it is Californ-i-a. It's the North Jetty, Humboldt, California, actually, and they're surfing down there today -- and tomorrow!
Our production dude Drew Hyland went down to the jetty today ("working," you know, wink wink) and took some fine photos of the Surf4Peace action, an event to raise money for Humboldt Surfrider and The Humboldt RampArt Collective.
Drew reports:
I watched heats 3, 4 and 5 today. Looking back, they seemed to be about 15 minutes long, but time flies when you're taking photos on a beautiful day. The sun was out and the water was glassy and smooth, but the waves were small and the surfers struggled to get good rides.
Tomorrow, the men's competition will continue and then the women will compete. When I left, I saw people constructing a skate park in the gravel/sand/dirt parking lot near the north jetty. According to the Surf4Peace ad in Savage Henry magazine, skate ramps are also a featured venue/event. Surf and ocean art phenom Matt Beard was there with merchandise and is supposedly going to do live painting. He was not painting when I was there.
"If everybody had an ocean/Across the U. S. A./Then everybody'd be surfin'..."
Hey, you've got an ocean, get out there! If not to get all BeachBoysy on us, then at least to watch these porpoise-like people do their thing.