This from Red Fox Tavern owner Brian Swislow's Facebook page:
For anyone who is interested, We at THE RED FOX TAVERN are cancelling a show set for October 11th.
Yes, Oct. 11 was the day Capleton was set to bring the fyah. So, ya.
The Jamaican-born reggae singer had successfully performed without incident to a sold out crowd at the Red Fox in November of 2010. A previous show had been canceled in 2004. In recent weeks, a local Facebook group protesting the show gained a considerable following due to Capleton's history of anti-gay lyrics.
-----
UPDATE 2:57 p.m.: The Journal spoke with Red Fox Tavern co-owner Brian Swislow this afternoon. He confirmed that the decision to scratch the Capleton show was made due to pressure from the gay community and other artists that perform regularly at the venue.
"I have high respect for the gay community at large. This was never out of disrespect," Swislow said.
While he was sure he'd lose significant cash due over the canceled gig, the business he stood to lose if he went on with the show would have been a greater blow.

"I can't lose 80% of the people that frequent my club over one show," he said. "All I can hope is that the gay community steps up and supports our club."
-----
UPDATE: 9/27, 8:43 a.m.: The Facebook event page for the controversial Oct. 11 Capleton show run by Bonus Entertainment was updated late last night to read "NOT CANCELLED," has added a new poster that reads "Club T.B.A." and added the following message:
"CAPLETON is NOT CANCELED...Nah worry about those people trying to take our reggae away...The people spreading the lies and misinformation will be held legally accountable for their actions and words.

Capleton is a reggae icon that has formed the roots of reggae. Every reggae and dancehall artist has been influenced positively by the KING ! Come show your love !!!! "
The Journal has emailed Bonus Entertainment and we'll let you know if a new fyah zone is arranged.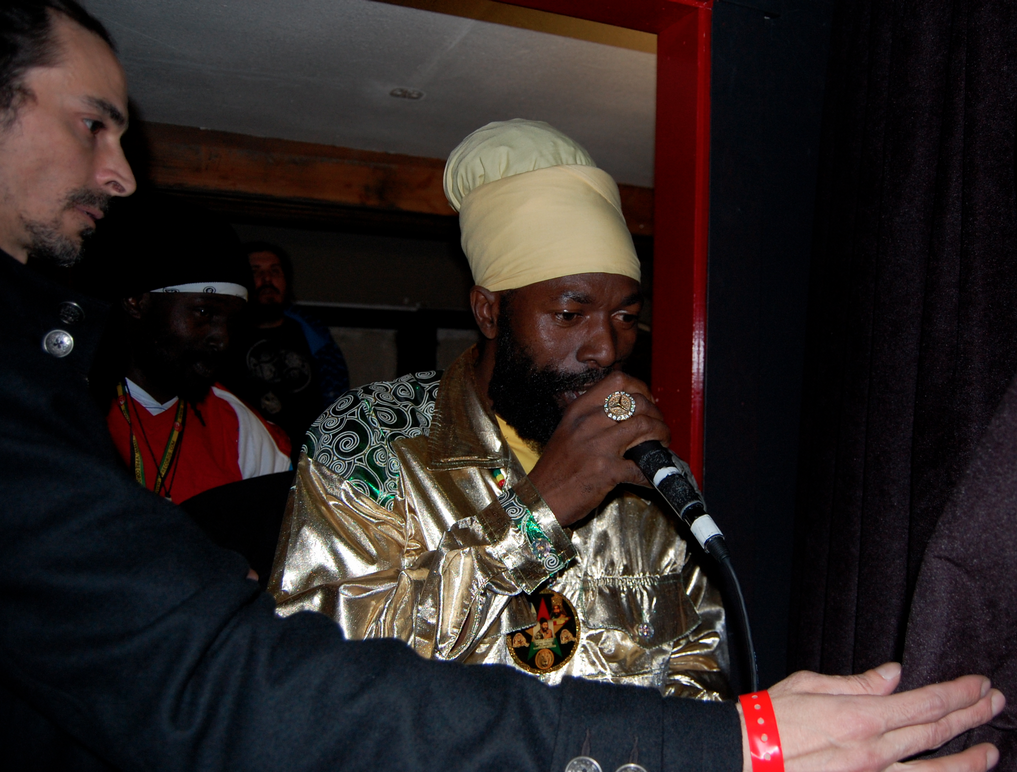 Above: Capleton, with Bonus Entertainment's Beau Devito, about to go onstage for his 2010 Red Fox Tavern performance.
UPDATE: 9/27, 10:16 a.m.: Bonus Entertainment's Beau DeVito emailed us back to let us know that "Capleton is performing in Humboldt at a undisclosed location to support uncensored reggae." We asked for clarification.
"We are not releasing the venue name until the show day," he said.

Further, he was perturbed at the Journal -- and me personally -- for "helping to hurt the show," particularly because he had arranged for me to attend the 2010 Capleton performance and "to not review the show is not telling the truth."

OK. Since the previous Capleton show had been mired in similar controversy, I'd wanted to go to see if there was anything to all the fuss. So, I went. Admittedly, there was no anti-gay rhetoric -- that I could understand, anyway -- spouted from the stage. People who love dancehall reggae peaceably enjoyed them some dancehall reggae. No incidents. There. But none of that is really the point.

Again, Beau, if you feel the Journal has in some way slighted you, we invite you to use our widely distributed paper megaphone, just like anyone the Journal has written about. Letters to the editor are limited to 300 words, we've gotta have your address and phone number, and the deadline is noon Monday -- but we really prefer, like, 11 a.m., 'cuz we call every letter writer before noon. Anywho, letters@northcoastjournal.com.