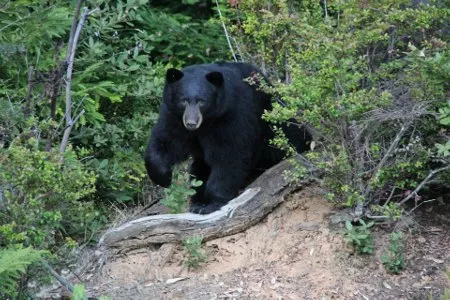 A lot of folks have been seeing bears lately as the bulky beasts amble into backyards to grab up fall's berries -- big, gorgeous bears, some cinnamon, some black with blonde noses. The power of the black bear's beauty and mischief has been known to distract folks from important indoor endeavors such as, say, watching presidential debates on TV (as a friend reported happening to her Wednesday evening), or cause them lurch to a stop in their vehicle to watch one bound playfully toward them down a slope.
Well, we do have a lot of bears in Northern California, where consistently the most bears are killed during the annual bear hunt season. Statewide, the bear population has been gradually increasing since the 1980s, and since 1990 it's gone from roughly 20,000 to a high of roughly 36,000 in 2009, according to the California Department of Fish and Game's 2011 California Bear Take Report, published Sept. 27,2012.
But since then, the statewide black bear population has dropped by as many as 10,000 bears. That's still a lot of bears, said DFG spokesperson Mike Taugher on Thursday. However, he added, about the big drop in bear numbers:
"We're a little concerned. We don't know yet what happened -- there's an analysis we're waiting for."
The Humane Society of the United States has ideas about what's happened, which it put out in a news release earlier in the week that analyzes the 2011 Bear Take Report:
"If the state's estimates are to be believed, Californians should be alarmed at the loss of a quarter of our bears in just two years," said Jennifer Fearing, the organization's California senior state director, in the release. "Bears in California are under pressure from poaching, habitat loss, road mortality, pollution and recreational hunting including harassment practices like the use of hounds, which will be prohibited come Jan. 1."
That's true -- the governor has banned the use of dogs in bear hunts, starting next year.
The 2011 report notes, among other things, that of the 1,745 bears taken legally in last year's bear hunt season, 42 percent of them were females (a figure that triggers official concern), 47 percent were hunted down with the use of dogs and that the highest takes were in Siskiyou (14 percent), Shasta (12 percent), Trinity (9 percent), Humboldt (8 percent) and Butte (6 percent).
Looking at the figures from 2009 and 2010, the humane society extrapolates that the legal take of bears in the past two years only accounts for less than a third of reduction in bears.