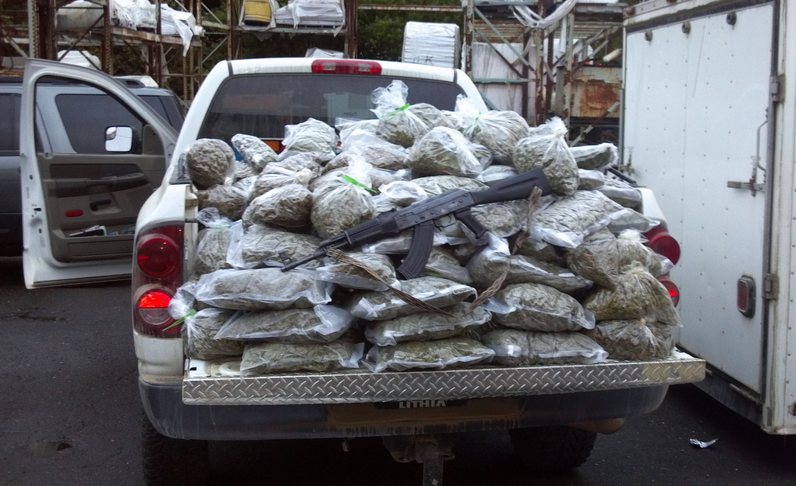 Press release from the Humboldt County Sheriff's Office (click images to enlarge):
On 10-11-2012, approximately 9:30 a.m., the Humboldt County Sheriff's Office assisted by the Eureka Police Problem Oriented Policing Team, and Humboldt County Drug Task Force served a Humboldt County Superior Court Search Warrant in the 2000 block of Sunset Ridge Road, Blocksburg.

Upon serving the search warrant, deputies located and detained 17 suspects. As deputies arrived and announced their presence one of the suspects, identified as Johines Ibonnet, attempted to jump out the back window of the residence and broke his ankle. He was transported to a local hospital and treated for his injury prior to being booked into jail.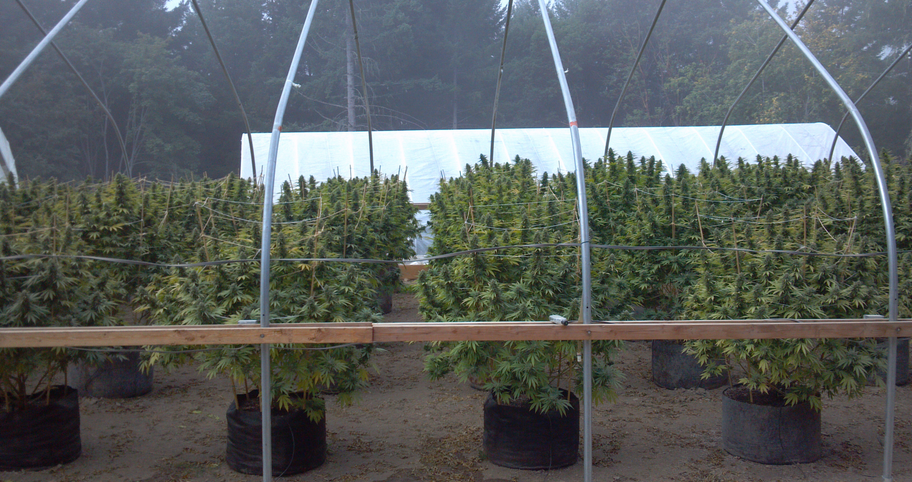 Upon searching the 45-acre parcel deputies found a very large sophisticated marijuana growing and processing operation. The operation consisted of marijuana plants being grown in two large greenhouses estimated to be between 60 feet by 100 feet, along with marijuana plants being grown out in the open and inside the residence. The residence and greenhouses were powered by two commercial sized 25 KW generators. The growing marijuana plants ranged in size from 6 feet to 8 feet tall and were budding. Deputies estimated the growing plants to have at least one to two pounds of marijuana bud being produced on each plant. There were a total of 718 growing marijuana plants located and seized on the property. Inside a large drying shed, estimated to be approximately 60 feet by 40 feet, deputies located and seized approximately 900 lbs of drying marijuana bud. Inside the residence deputies located two commercial marijuana trimming machines being used to trim the dried marijuana bud from the plants. Deputies also located approximately 132 pounds of dried marijuana bud along with numerous drying racks and 261 sealed bags of marijuana bud ready to sell, estimated to weigh approximately one pound or more each, along with packaging material, scales, a Norinco AK-47 assault rifle with several loaded high capacity magazines, a money counter and approximately $9,500.00 cash.
A total of approximately 1,293 pounds of dried marijuana bud was located. Dried marijuana bud is being sold for approximately $2,000 a pound. The estimated value of the dried marijuana bud seized is $2,586,000.00 wholesale. If the live marijuana plants had been harvested they would had yielded conservatively an additional 718 pounds of dried marijuana bud estimated to be $1,436,000 wholesale. The value of the marijuana seized is estimated to be at least $4 million dollars in just marijuana bud, not including the leaves.

Several of the suspects admitted to investigating officers they were hired to work at the marijuana grow as laborers.

The following is a list of who was arrested at the scene and booked in the Humboldt County Correctional Facility on charges of Cultivation and Possession for sale of Marijuana, and Conspiracy to Commit a Felony:

Elber Dejesus Ivonnet, male 53 years old from North Bergen, NJ. Bailed
Geyler Melo-Pueyol, male 22 years old from Miami, Fla. In Custody, $75,000 bail
Richardo Mateos-Perez, male 22 years old, from Homestead, Fla.In Custody, $75,000 bail
Fernando Olvera, male 39 years old, from Santa Rosa, Calif. Bailed
Luis Manuel Sosa-Vega, male 47 years old, from Santiago, Cuba. In Custody $75,000 bail
Jose Pulido, male 42 years old, from Los Reva, Mexico. In Custody $75,000 bail, ICE Hold
Hildegarde Safont-Arias, male 42 years old, from Hialeah, Fla. In Custody $75,000 bail
Disney Bolanos-Chacon, male 41 years old, from Charlotte, N. C.In Custody $75,000 bail
Jonines Ibonnet, male 42 years,from Oakland, Calif. Bailed
Terrence Henderson, male, 43 years old, from Eureka, Calif.In Custody $75,000 bail
Pauline Ionie Barnes, female, 44 years old, from Green Island, Jamaica.Released on O.R.
Arlettis Rodriguez-Alverez, female, 22 years old, from Hileah, Fla. Released on O.R.
Dayana Isabel Padron, female, 19 years old, from Blocksburg, Calif. Released on O.R.
Elizabeth Enamorado De Padron, female, 40 years old, from Santiago, Cuba. Released on O.R.
Hyacinth Hypatiae English, female, 48 years old, from Bridgeville, Calif.Released on O.R.
Idalmis Leyva Ivonnet, female, 62 years old, from Charlotte, N.C. Released on O.R.

Michael Lewis Iverson Jr., 35 years old from Eureka, California was also arrested at the marijuana growing site, however he was only arrested on an outstanding probation violation warrant with a bail of $30,000.00.