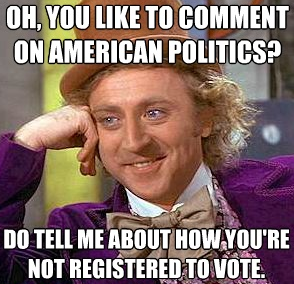 We totally can! Do not disappoint Condescending Wonka, HumCo!
The Humboldt County Elections Department is signaling last call to us all via press release: Monday will be the last day to ensure that you'r able to get yer democracy on this fast approaching Nov. 6.

So do that registering thing if you haven't. Here's how:
The last day to register to vote in the November 6, 2012, Presidential General Election is Monday, October 22, 2012. You should update your voter registration if you have moved, changed your mailing address, changed your name, or want to change or select a political party preference. You can register to vote in California if you are:

•A U.S. Citizen
•A California Resident
•At least 18 years of age on or before the next election
•Not in prison or on parole for a felony conviction, and
•Not declared mentally incompetent by court action

Registering to vote is simple. You can now register to vote on-line at www.registertovote.ca.gov Registration forms are also available at the Humboldt County Elections Department, 3033 H Street, Eureka, and at most post offices and libraries. You can check to see if you are registered in Humboldt County on-line at www.co.humboldt.ca.us/election and click on "NEW!! Am I Registered?" You can also view your sample ballot and find your polling place by visiting the county website. Or contact the Humboldt County Elections Department at (707) 445-7481.