Check it out, mon! The new video from Arcata reggae bros Woven Roots is all about representin' da Humboldt values: sustainable agriculture, a locavore diet and respect for women. Respek!
How do we know they respek da ladies? Because the video says so in a warning right up front. It says "No Women ... were disrespected in this film." Boom. Neither were chickens, eggs or Swiss chard, thank god. (This chard oppression must end.)
The singer in the video has a bomb-ass chicken coop out in-a his front yard. On his humble farm he raises chickens, grows leafy green veggies and fertilizes his Jamaican accent.
There's also a woman on the farm who helps out with a variety of chores: feeding the livestock, picking vegetables, rubbing hens on her boobs and gyrating in a gold lamé bikini while she's closed up in the chicken coop like some super-sexy farm animal.
Now, touchy P.C. feminist types might find some of the imagery distasteful -- the ass close-ups, the woman-in-a-cage business, the slo-mo garden hose facial. Please. Must I refer you back to the disclaimer up top? It clearly said no women were disrespected. That includes you. Also, they want you to know that "This video is intended to Inform, Entertain and Humor the People"!
Color me all three! Rastafari!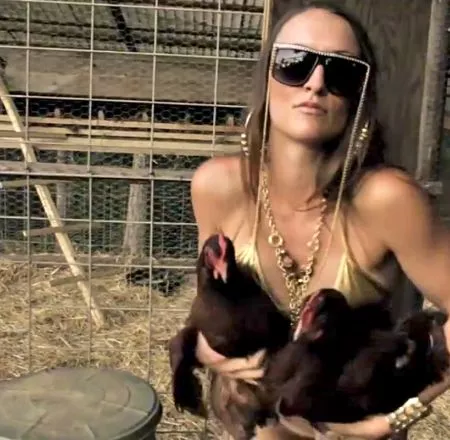 Previous local music video love: Humboldt Live Sessions