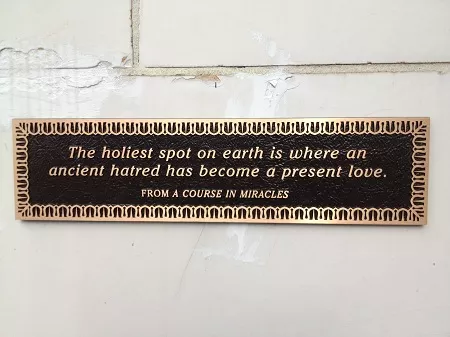 A small plaque has appeared on the white wall of the Clarke Museum near where John Tutuska used to sit meditating in the sun. Tutuska, well-known and beloved by many in town, died in October, and Clarke Street Plaza overflowed with mourners several weeks after. One of his dying requests, says his friend Lynna Ridgeway, was that a plaque be placed on the wall with a saying he chose from "A Course in Miracles," a book whose guidance he followed and shared with others.
The Clarke Museum approved the request, Ridgeway used money from Tutuska's estate to produce the plaque, and on Dec. 7 the museum's incoming board president, Roy Sheppard, installed it.
Ridgeway says Tutuska chose a statement from the "Course" that "means that when an old grievance is forgiven it becomes a sacred experience enlightening the time and space around it." She adds:
"John loved his neighborhood so much that he often said there was nowhere better on earth to be. Perhaps his own heart became the holy spot on earth as he forgave his own ancient grievances while he sat in the sun and meditated on these teachings. He shared it then, and he wished to share something there at that spot that would encourage others to forgive."
Long-time Old Town frequenters likely will recall the sign Tutuska placed in his apartment window, above Ramone's, that simply said, "Forgive."