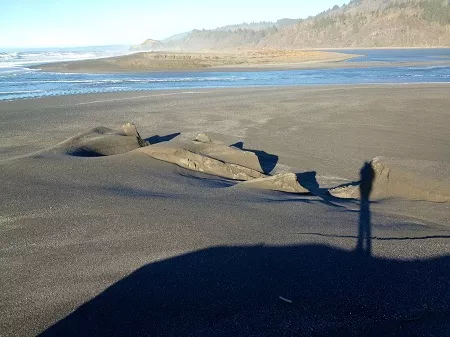 It doesn't happen often -- maybe every few years -- but when the spit at Stone Lagoon is breached the site is spectacular: ocean rushing in, McDonald Creek-fed lagoon waters flowing out, white riffles fluttering in the mouth temporarily opened to facilitate the exchange. Perhaps, if the timing is right, some lagoon-trapped creatures venture oceanforth and creek-seekers venture in.
Sometime around the last king tide, it seems, in December, waves began lapping over the narrower part of the spit that closes the lagoon in most years. After much nibbling and sand collapse, a water path opened. The photo above was taken last Sunday as the tide was running out.
At the much bigger Big Lagoon, to the south, breaching is more frequent say state parks folks and others, including Marna Powell of Kayak Zak's.
That all said, Stone Lagoon has now breached two years in a row, which is unusual. Last year, Christmas-time king tides whittled away a cut also.